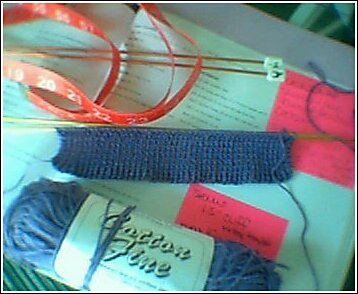 Ahh. Early morning knitting.
The dog and I were up at 6 this morning. So I got started on my other sleeve. I made it to the cuff before breakfast and almost to the sleeve cap before lunch. Short sleeves are the BEST.
Yesterday I happened to see the Books-A-Million truck go by, causing my heart to race with the thought of new knitting magazines. We ran by this afternoon and sure enough, the winter Interweave was just being unpacked. At first glance, there are several things I would love to make – not the least of these is the Granny Square Pullover. Since I have yet to get the hang of crochet, Great Gran has agreed to help me with the borders.
As an aside: Did you know that books and magazines come to the stores in plastic flip-top totes? It made me miss WebVan more than ever.