As promised, here are Great Gran's feet all dressed up and ready for her sunday school party!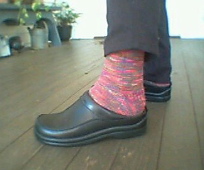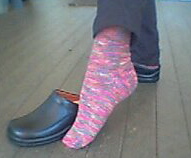 Fancy feet!
What you can't see in this picture is the basket loaded with muffins. Yesterday was Muffin Thursday here at the farm.
Angus helped me take pictures for the gallery the other day. Mostly he helps by sitting on the sweaters I am trying to photograph. Here, for your viewing pleasure, is Angus seated on a green sweater. You can't see the sweater because his fur is in the way.
Also, to my delight: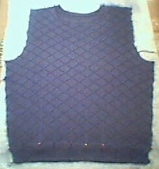 The purple sweater blocking. Joy.
And of course, since it's cotton, it will take DAYS to dry completely. Especially since it's cold – for us here in the South anyway. There was frost when Angus and I went out this morning and I could see my breath. First time this winter/fall (what seasonal designation does November get?). It is hard to believe the high was almost 80° on Wednesday. I think that may be why my nose has become a Faucet – I have sneezed and blown my way through an entire box of kleenex since yesterday. See me shaking my fist (clutching a tissue) at that tempramental Mother Nature? It is going to be hot again tomorrow.