The ninth box to complete the race for Glory arrived today!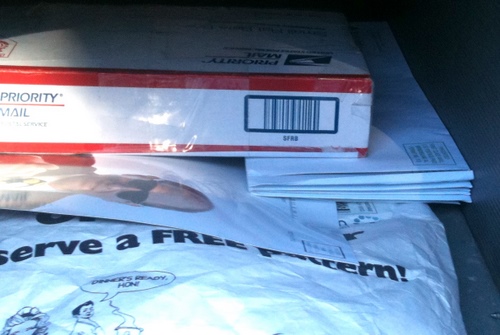 Ragtime Knitters!
The last leg of the race, knit by Lila, resulted in a great stripey dish rag! As well as a bunch of Tootsie Rolls! I love tootsie rolls.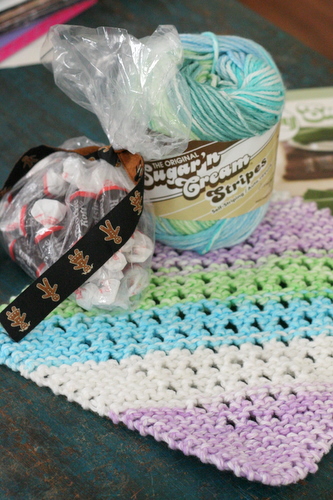 Stripes!
There's another little treat that fit perfectly into the box: a Sugar'n Cream pattern booklet! How appropriate is that? It has patterns for non-dish cloth kitchen things! How cute is this basket?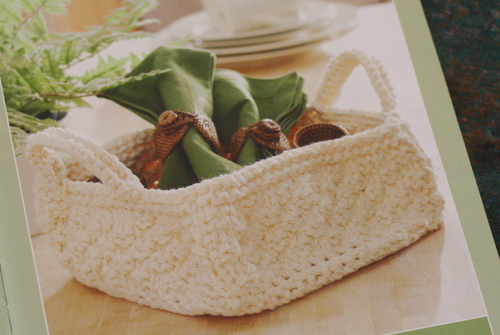 The title is "Eco-Kitchen." You know you want a basket.
You should see the little round baskets and leaf scrubbies! Thanks so much, Lila, I know what to do with my enormous stash of Sugar'n Cream!
Ragtime Knitters and Team Captain Deb, congratulations on your Dish Rag Tag Glory!
Two teams to go – and both have tagged me! Will the race have a photo finish this year? I don't think that has ever happened.
Revenge of Dish Rag Tag Final Standings
Doggone Dishrag Addicts 10/15/2010
Five Alarm Fire 10/18/2010
Faster Than Ewe 10/19/2010
X-treme Rag Taggers 10/20/2010
Cable 4 in Front 10/23/2010
Alterknits 10/25/2010
Dishrag Divas 10/25/2010
Purl Power 10/27/2010
Ragtime Knitters 10/30/2010