A Taste of Georgia calls them "Mock Baby Ruth Bars." So does my Mom. I prefer "Chocolate-Topped Granola Bars." It makes me feel less guilty about eating bar cookies for breakfast.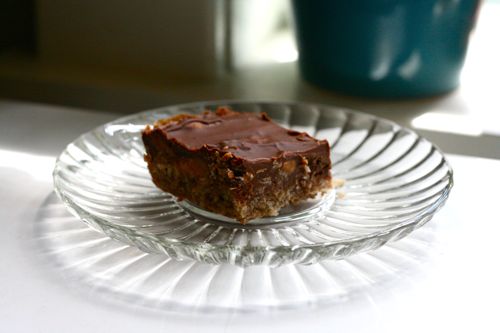 The whole "Baby Ruth" appellation makes no sense anyway.
Mom doubles this to make a 9×13″ pan. I have no self control, so I stick with half a recipe and a 9×9″ pan.
Chocolate-Topped Granola Bars
1/2 c. brown sugar
2 T. corn syrup
2 T. peanut butter (I like creamy, Mom likes chunky.)
1/2 t. vanilla
6 T. vegetable oil, butter or margerine*
2 c. oatmeal (I use old-fashioned, rolled oats but quick oats work too.)
Combine everything but the oats and stir until it's all mixed up. Stir in the oats being careful get them coated. Spread this into a greased 9×9″ pan and smooth out the top. Bake in a 400° oven for 12 minutes (edges should be browning) while you mix up the topping.
1/2 c. chocolate chips
1/4 c. butterscotch chips
1/3 c. peanut butter
The minute the cookie comes out of the oven, spread this mixture on top. Keep spreading, the heat from the cookie will melt the topping into a gooey, delicious, swirly mess. Put the pan in the refrigerator until the chocolate sets before slicing into squares. If you can stand the wait. I store them in the 'fridge during the summer.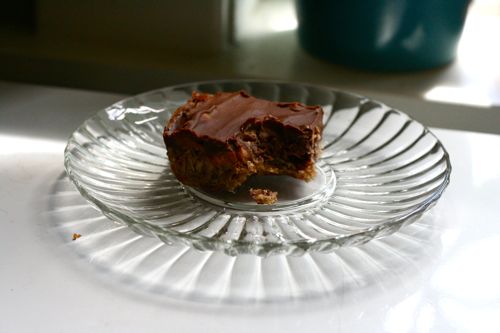 I want one right now!
*Mom and the recipe use butter. Many many years ago, I used canola in desperation and have never looked back. The oil gives the cookies a crispy, tender, flakey omnomnom and is a lot less greasy. Easier to mix up too.