On rainy days, Ellie and I like to make delicious things to eat. We like to make delicious things to eat on sunny days, windy days, Thursdays and any other day ending in "y." But that's beside the point.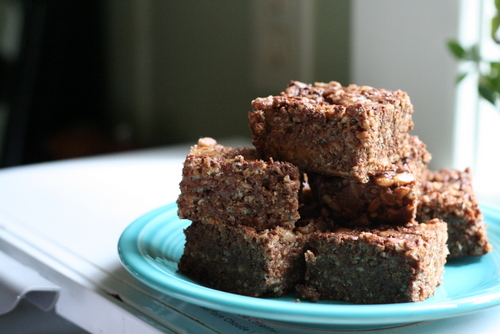 This is a delicious thing to eat.
Peanut Butter Rice Krispie Treats
1/2 c. sugar
1/2 c. corn syrup (I heard that brown rice syrup works too.)
Put these in a sauce pan over medium heat and stir it every now and then. When it boils and is bubbly all over the surface, take it off the heat and stir in
1/2 c. peanut butter
It will now look delicious. Put
3 c. of Rice Krispies (or puffy rice cereal of your choice)
1 c. of chocolate chips (optional)
in a big enough bowl to stir. If you would like the chocolate chips to maintain their integrity as chocolate chips, don't do what I did.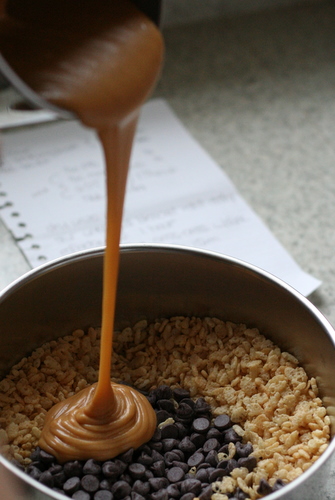 This will melt the chocolate chips. Not a bad thing, just not as attractive.
Leave the chocolate chips until later if you don't want them melted. Stir it all up. Once it's cooled off a little bit, throw in the chips (if you haven't already) and stir gently. Then dump the sticky mess into a greased 8×8 pan and mash it all down firmly.
Wait an hour or two for it to set up.
Slice and eat.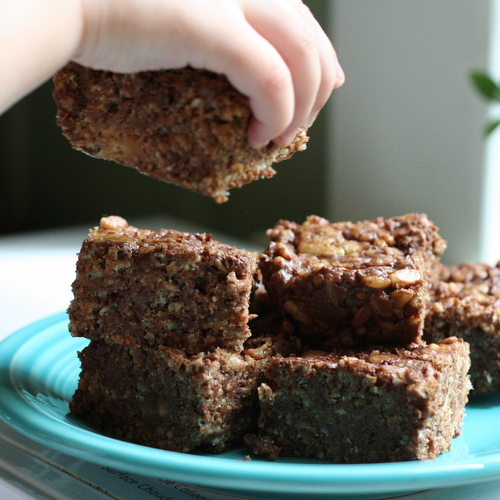 And eat and eat.