In between picking up limbs (Can you BELIEVE that I am going to STILL need a chainsaw to move some of these things? This is AFTER the loggers for crying out loud!), I have been working diligently on M's vest. I am about to the place where I ripped it out the first time (ARGH).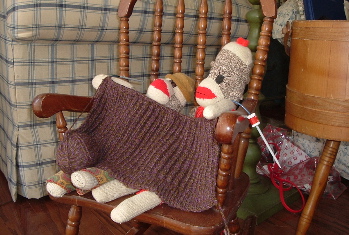 Monkeys are the most helpful creatures.
I plan to make it to the arm holes during the Presidential Debates tonight. I also plan to eat popcorn and sour patch kids while watching, so I may not make it that far. I wouldn't want to mess up Michael's sweater with fingers coated in sticky, buttery deliciousness.
With the power back on, I've been catching up on my blog reading (a lot can happen in two weeks and I am adding a couple new sites to the What I Read Regularly List) and looking at "before and after" shots of Gulf Shores and Perdido Key. Some folks have slabs where their houses used to be and all of their stuff is floating out in the Gulf. I'd rather be picking up limbs for the rest of my life Any Day. Thanks for all of the kind thoughts y'all have been sending our way, I am thinking happy knitting thoughts back at you!