In the original rules I stated that in the event of two boxes arriving on the same day, the first one into the mail box would be considered the first box to finish. Imagine my shock when not two but THREE boxes appeared in the mail box yesterday! It really was a nail-biting photo finish (which was followed by a Big Thunderstorm hence the not blogging until today)!
The last into the mail box and the first out…
In fourth place: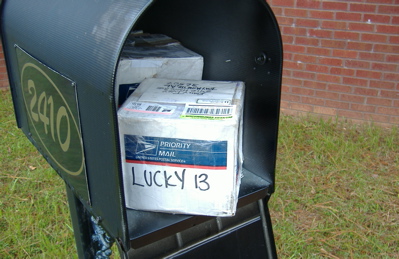 Team Lucky 13!
Take a look a the goodness inside!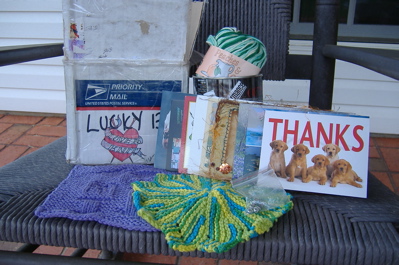 Those aren't stitch markers, they are earrings! How's that for a cute idea?
Lesley, thank you so much! As an added bonus (as if this wasn't enough), there is also a collection of cards from the Lucky 13 team members! What a fun idea – and such a treat for me. The purple dish rag is a gift from Ally B. Many thanks to you all!
It kills me that 4th place doesn't have a prize associated with it – especially since it is such a narrow margin of victory. I will be sending each of you a Certificate of Completion (with shiny foil stars and the official signature of the Dish Rag Tag Commissioner) for you to add to your Wall of Achievement (I know you have one). And of course, should any of the other teams be unable to fulfill their obligations of Dish Rag Tag Glory…
The middle box, our Third Place Finishers in Dish Rag Tag are: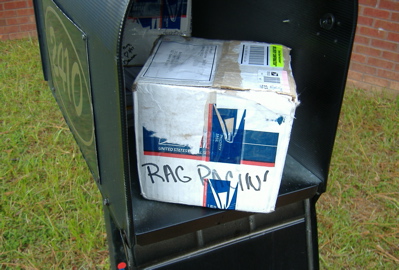 Team Rag Racin'
And inside we have: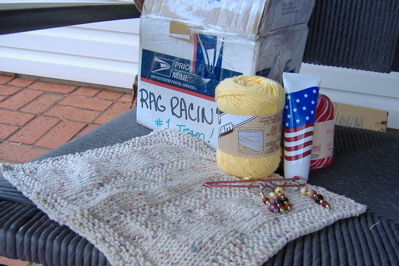 I love the hand cream – that is so cool!
My picture doesn't show it very well (all the content pictures were taken in between rain showers that make poor lighting conditions), but the dish rag from De says "LOVE" with a heart for the "O." I've never tried motif knitting myself – I need only to think about the Cross Stitch Disasters of my youth to convince myself that I need to leave that kind of thing to the more patient, careful and discriminating knitters. Thank you so much, De!
Congratulations, Rag Racin' on an impressive Third Place Finish!
And now…
The first box into the mailbox and the last one out…
The Second Place Finishers in Dish Rag Tag (and winners of "Most Abused Tag Box Thus Far"):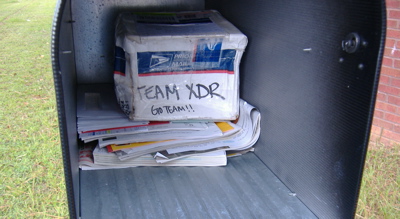 Team XDR!
The crowd goes wild! I opened it from the bottom since the top was Well and Truly Taped and discovered a pile of goodies: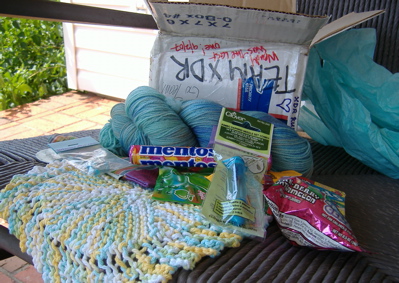 Yay! I am going to develop some kind of blood sugar disorder from all this candy!
Wendy has outdone herself with all kinds of fun again! Smooshy sock yarn that I have heard so much about (in lieu of dish rag cotton, which she pointed out I would be receiving a copious amount of in the very near future) and Lantern Moon needles to knit it with! I've never had hand made needles before, they are entirely too pretty to knit with. I am thinking of having them framed. Thank you so much, Wendy!
A big "Congratulations!" to Team XDR on their harrowing photo finish! Barring Catastrophic Printer Failure, prizes for the top three teams should get into the mail tomorrow.
PS I forgot to mention my favorite thing about all of the boxes that have arrived back to far: the READ ME card is still inside and is none the worst of wear. That makes me grin every time.
PSS It is taking forever to get all my pictures uploaded today! This entry was written ages before it got posted because of this frustration! ARGH WHY WON'T THEY GO? OK all done. Now I am going to the mail box to see if any boxes are here today!
PSSS William Henry is on my table rubbing his chin on the Dish Rag Tag boxes. All the treats belong to William Henry.