Every night Ellie brushes her teeth without a fight, she gets a sticker for her calendar. At the end of the week, if she has collected a whole row of stickers, she gets a prize.* She's never missed a prize. Last week it was a set of felt tea bags that I made to go with her tea set.** This week, it was some itty bitty buddies and snacks.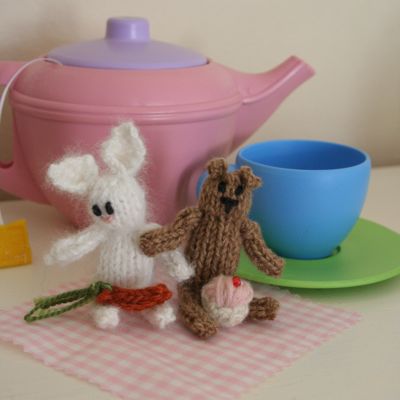 Angora and Cashmere! Even tiny things can be fancy things.
She made them a bed in an animal cracker box, but this morning they moved into the doll house. It doesn't look like the peg cats mind too much.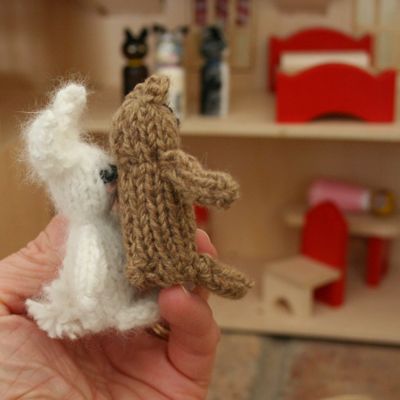 They aren't in the pattern, but I feel that tails are important.
The Teeny Tiny Knitted Toys pattern can be found on the free patterns page at Little Cotton Rabbits. You'll have to scroll, but the cute you pass on the way to the tiny toys makes it worth it. Especially the Easter egg ornaments (keep scrolling)!
*Prizes (and presents of all kinds) were called "ho hos" (in deference to the greatest present giver of her young life) until last night when she started to call them "prah."
**These were an enormous hit. Not only did she make tea in the little tea pot, she made it in the cookie jar and in the dollhouse bathtub.