Applesauce Oatmeal Muffins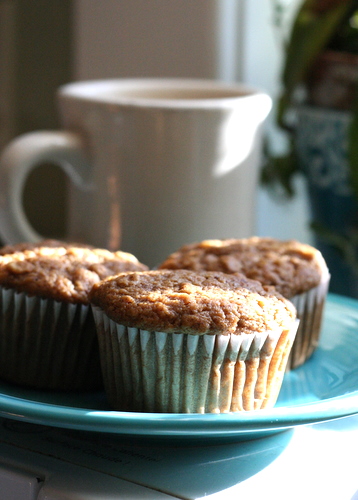 My new favorites.
You've probably got everything you need in your pantry and 'fridge. That's my favorite thing about this recipe – besides the deliciousness. The recipe makes 12. Ellie and I usually half it. She's going to be good at fractions.
3/4 c. some kind of milk (I used almond this time. I like almond milk.)
1/2 t. apple cider vinegar
Stir the vinegar into the milk and give it a few minutes to curdle up like buttermilk. Then add:
1 c. applesauce (we used unsweetened)
3 T. canola oil
1/2 c. brown sugar
And stir everything well to combine. Dump in the dry stuff:
1 1/2 c. AP flour (we used whole wheat pastry flour this time)
2 t. baking powder
1/2 t. baking soda
1 t. ground cinnamon
1/2 t. ground nutmeg
1/2 t. salt
1 scant cup of oatmeal
Note: the original recipe wants 3/4 c. of oat bran. But I don't know what oat bran is and you can't get it at Winn Dixie so we went with oatmeal.
Mix everything up until it is just combined. Ellie was helping, so the pictured batch is over-mixed and didn't rise as well as it could have. Looks aren't everything.
Scoop the batter into a greased muffin pan (or cupcake liners if the condition of your muffin pan is starting to Concern you) and pop it in a 350F oven for 30 minutes. Don't be afraid to let them get a little dark – it makes the tops crunchy yummy omnomnom.
The original muffin recipe is found in Veganomicon. If I could only have one animal-free cookbook, Veganomicon would be it. The majority of the recipes are for things Ellie actually eats and use ingredients that can be found in a grocery store. My kid is a less picky eater than some, but what two year old eats Kumquat and Chipotle Relish on a Bed of Kale?
I totally made that last one up.