Two boxes today!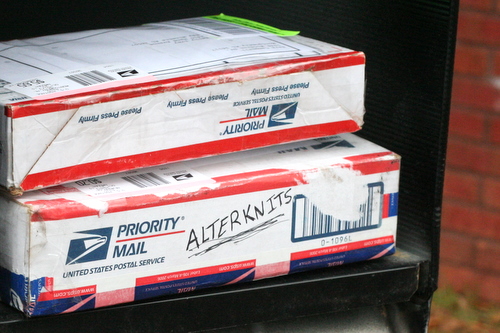 First in is the one on the bottom.
The sixth box to achieve Dish Rag Tag Glory belongs to the Alterknits! This is the surprise Team 11 made up entirely of volunteers for emergency alternate knitter. Captained by Roz, this team made the most of their unexpected opportunity to race!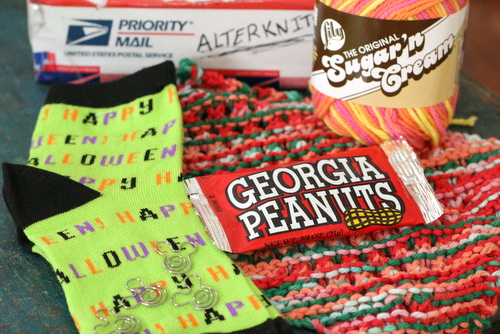 PEANUTS!
Mary Caroline writes that she uses the Micky Mouse paper clips as markers! I can't wait to try it (I bet they make great necklace charms too)! If I saw it in August, the dish cloth would immediately make me want watermelon. In October, it makes me think of Christmas trees. Funny how that works. I think it looks great with the socks too! Ellie had a great time opening her present too: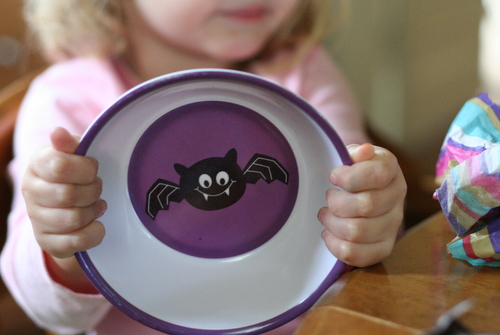 Bat bowl! She immediately filled it with the m&ms. (Brown for me today.)
Thank you so much from both of us, Mary Caroline! My parents live down the road from you – they've got a golf cart. Congratulations to the Alternates! I am so glad you got to compete!
The seventh team to place in the race belongs to the Dishrag Divas! Let me tell you with no reservations, Sara knits a beautiful dish rag.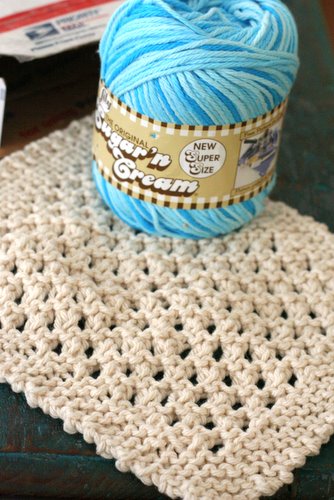 Too pretty for scrubbing.
In the cream, the pattern is simple and elegant with Sara's perfect stitches – it should be a bedspread square. Excellent finish! Congratulations, Team Captain Meg! Congratulations, Dishrag Divas! Thank you so much, Sara!
I've been tagged again! With just four boxes still in play, will this be the fastest completed race on record?
Revenge of Dish Rag Tag Final Standings
Doggone Dishrag Addicts 10/15/2010
Five Alarm Fire 10/18/2010
Faster Than Ewe 10/19/2010
X-treme Rag Taggers 10/20/2010
Cable 4 in Front 10/23/2010
Alterknits 10/25/2010
Dishrag Divas 10/25/2010