To date, the wool aspect of Mindful Fiber has been focused on small farms and unique handspun yarns. But what if you are in the mood for a more 'predictable' yarn? A yarn that will define each stitch and highlight every cable. Something with the smooth texture that only a commercially mill spun yarn can provide. All that and sheep-friendly too? It's not impossible. I'd like to share one of my all-time favorite organic yarn producers: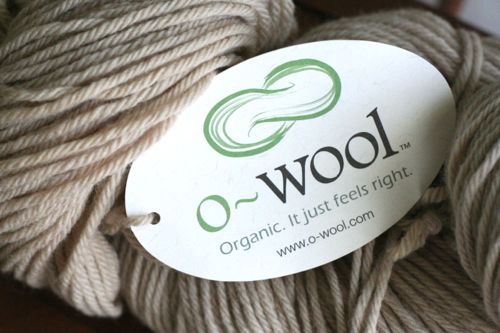 Begun by the Vermont Organic Fiber Company in 2000, O-Wool is now distributed by the Tunney Wool Company in Philadelphia where the yarn is also skeined and dyed. Fleece is spun by mills in Wisconsin and Massachusetts and grown by free-range sheep in South America and Australia. Sheep that are not mulesed.
That needs a little bit of an explanation.
Mulesing is when strips of skin are cut off of a Merino sheep's bottom (typically without anesthesia) in an effort to control blowfly infestations called 'flystrike'. Mulesing is common practice in Australia where blowflies like to lay their eggs in moist, stinky, woolly places like the wrinkly bottoms of merino sheep. When those eggs hatch, the maggots eat the live animal's flesh. So why not just hack the wrinkles off every single sheep? Shiny scar tissue is blowfly resistant. The Australian Royal Society for the Prevention of Cruelty to Animals advises that mulesling (with anesthesia) is a method of last resort to save an animal and shouldn't be used in all-purpose animal husbandry. PETA organized a boycott of Australian wool over the practice in 2004. In spite of retracting a promise to "phase out" mulesing by 2010, Australian wool growers are slowly turning to other more humane methods of preventing flystrike. Possibly because alternatives are better publicized or possibly because the public is becoming better educated about how domestic animals are systematically abused by growers and farmers. And now you know more than you ever wanted to know about sheep bottoms.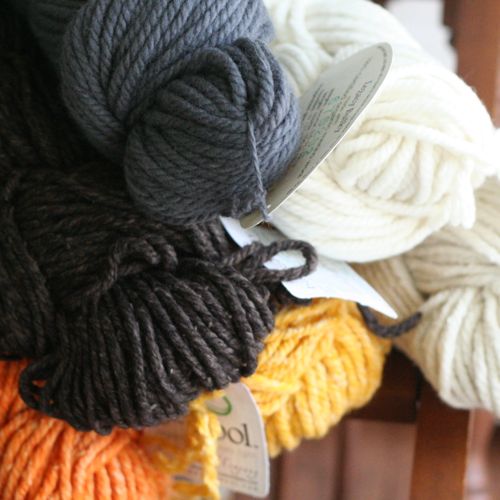 Representatives of the colors in my O-Wool toy stash. To take the edge off.
I really didn't mean to tell you all about mulesing and how O-Wool is very very conscious and very very careful to pick wool from animals that haven't been tortured this way. I meant to talk about the advantages of scouring fleece with biodegradable soaps to clean it rather than "carbonizing" it with an acid bath that burns the vegetable matter away. I meant to talk about how super soft merino is super soft because of chemical softeners, not because of the quality of the wool. With minimally processed merino, the act of knitting and that first bath in a mild soap before blocking are the final steps in 'finishing' the yarn. I meant to talk about low-impact dyes and testing waste water to reduce the environmental impact of the dye process. But by now you know that I tend to default to the animals so you get what you get.
Speaking of what you get…
O-Wool produces three yarn lines (although I just saw a sneak peek of a new yarn on their blog): Classic, Legacy and my personal favorite, Balance. Made with a 50/50 blend of organic cotton and organic merino, Balance is the perfect all-season yarn. I've used the bulky weight for toys and the worsted for Ellie's pink cardigan (Did I show you that finished?). It wears fabulously – since it's combed during processing, the short fibers are removed to minimize pilling. Plus it comes in some really fabulous colors. I picked three in May flower shades for this giveaway.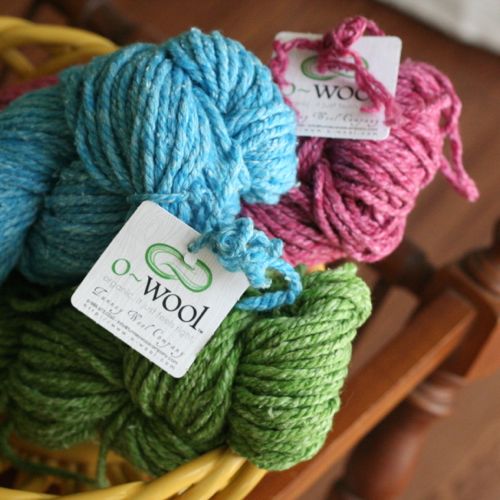 Rhodonite, Uvarovite and Zircon.
**This giveaway is closed! Come back in June for more Mindful Fiber!**
Three winners will each receive one skein of Balance Bulky in one of the colors above. It'll be a surprise as to who gets what – I'll seal the packages before I add the mailing labels. But what can you do with a single skein of Balance Bulky? Two things: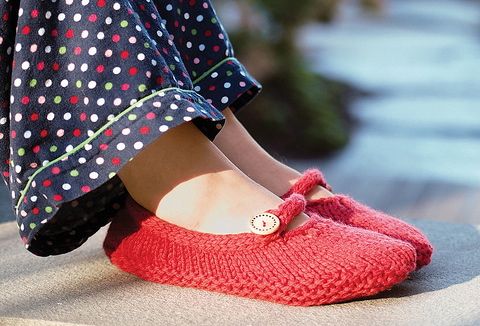 One! Two! Ysolda Teague's Not-So-Tiny Slippers!
A quick knit to keep those toes covered when the air conditioner is just a tiny bit chilly. With Balance, you'll have just the right about of warmth. So three winners, one slipper 'kit' to each – just add needles.
To win May's Mindful Fiber Giveaway, just leave a comment on this post. The random number generator will take it from there. For more chances to win, refer your friends and have them mention your name in their comment (this is to raise awareness after all). May's Mindful Fiber Giveaway will be open for almost two weeks (until Thursday, May 31).
**This giveaway is closed! Come back in June for more Mindful Fiber!**
All the yarn pictures are mine, the Not-So-Tiny Slippers pictures are copyright Ysolda Teague.