We're halfway through the year and halfway through our Mindful Fiber series. A perfect time to answer the question: Where can I find all these eco-friendly and animal-friendly yarns? I find a lot of mine at Green Sheep Shop where Annette specializes in yarn that "treads lightly on the planet."
**This Giveaway is Closed! Please join us in a few weeks for
12 Month of Mindful Fiber: July.**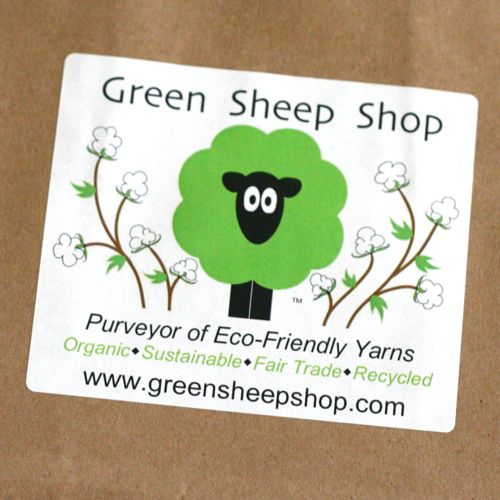 That sheep and I are good buddies.
It's completely refreshing to shop in an environment where someone else has done the homework and selected a variety of yarns that I would buy with confidence in the knowledge that they are easy on the environment as well as easy on the hands and eyes. I also love the flat rate shipping, great pictures, thoughtful descriptions and paying with PayPal. I asked Annette what inspired her to open up shop in such an eco-friendly way, her story follows.
"It all started with girlfriends and a baby boom. About 5 years ago was the start a baby boom among my girlfriends, which is continuing on until this day. I really enjoy making knitted and crocheted gifts for all the new babies coming into the world. Also, at the same time I was personally changing to incorporate organic foods and more sustainable practices into my life. With my new attitude, I wanted to incorporate using organic yarn into my knitting and crochet projects. As I went to my local yarn stores I was limited to one or two lines of organic cotton, which was a start but not quite enough variety to satisfy me. After a while, I thought there has to be more options than this, so I started searching on-line for organic yarn, where, to my surprise, I found a large variety."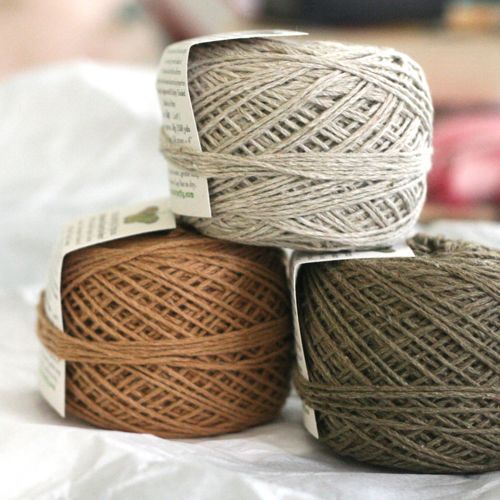 Ecobutterfly Organics' Pakucho Qoperfina – Color Grown (seriously) Organic Cotton
"Then I started to do research about the differences between traditionally produced yarn and organic yarn, which influenced me even more so to use organic yarns. Then my search widened to other eco-friedly yarns and whole world of choices opened up. But in doing my research I noticed there was not one store that carried a large selection of eco-friendly yarns. A store would carry a few lines and another different lines and so forth, that's when the wheels started tuning and the concept of Green Sheep Shop came into existence, a yarn store that focus on earth-friendly yarns. I have to say I had quite a few nay-sayers when I was stating my business but I pursued my plan and two years later, my shop is growing and I have a wonderful loyal customer base. I can't tell you how happy it makes me to know that others appreciate earth-friendly yarns and support my business."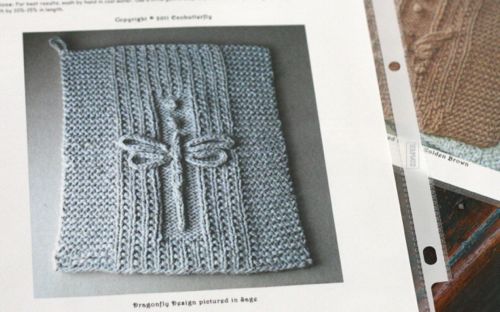 Love a yarn but at a loss for a project? Green Sheep Shop has patterns too.
"My hopes for the future are to continue to find wonderful eco-friendly yarns for my customers and eventually introduce my own line of eco-friendly yarns which will focus on local, organic and sustainable yarns produced within North America".
Three cheers for green yarn! Three winners in June! This month's featured yarn can be found in Green Sheep Shop, Pakucho Qoperfina. A 97% certified color grown organic cotton infused with 3% soft virgin copper fiber. That's right: copper. Many people believe that copper has healing properties and other mysterious benefits but it is also naturally anti-bacterial and anti-fungal. Perfect for a hand towel or wash cloth! Conveniently, Annette has already created kits that pair Qoperfina with several sweet cloth patterns.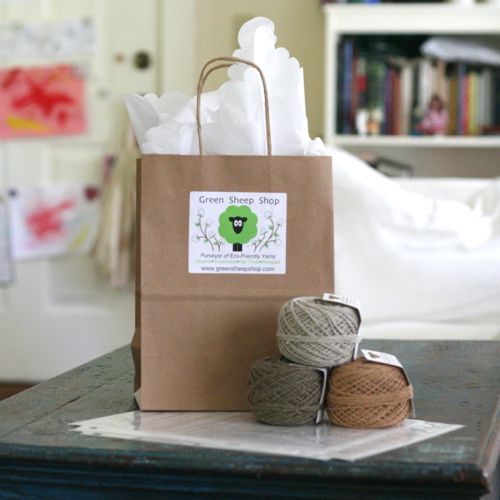 Also the cutest tissue paper ever.
I picked the Butterfly, Dragonfly and Lotus Blossom motifs for the winners and three less common color grown cotton shades (Sage, Deep Green and Deep Golden Brown). Kits will be assembled randomly (one pattern, one color yarn), I'll even label the boxes with the winners' addresses after I've packed them. For a closer look at all the available colors and motifs, just visit the product listing (the poppy is marvelous). While you're there, you may as well look around at the cotton and the yarns made form recycled fibers, the vegan yarns and the fair trade certified selection…
WAIT!
Don't go before you leave a comment to enter the drawing for June's Mindful Fiber Giveaway! May the Random Number Generator favor you on Saturday, June 30 when this giveaway is closed and winners are chosen! Many thanks to Annette and Green Sheep Shop for making sustainability and consciousness in knitting that much easier.
**This Giveaway is Closed! Please join us in a few weeks for
12 Month of Mindful Fiber: July.**