Some of my favorite yarns are made from cotton.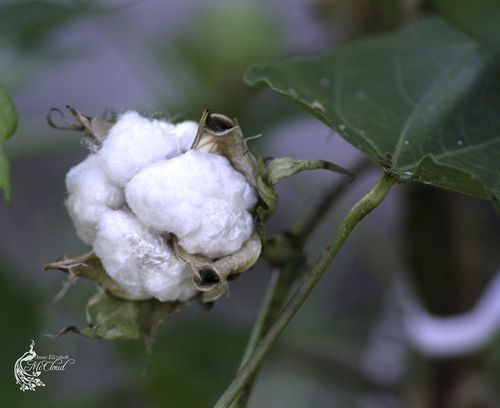 All the cotton pictures are courtesy of my darling sister, Anna Elizabeth McCloud. I've reserved her rights.
This isn't even a little surprising: cotton fulfills about half of the world's fiber needs. It is also one of the most chemically dependent crops since 16-25% (depending on who is doing the reporting) of the world's insecticides -more than any other major crop- are used in production. As much as 1/4 of a pound of chemicals are used to produce enough cotton fiber to create a single t-shirt. That's hard on the environment, rough for the farm workers and not especially healthy for the wearer of the t-shirt.
In response to consumer concerns, the conventional cotton industry claims to have spent the past 50 years making a concerted effort to improve sustainability and increase crop yield without destroying the environment*. According to mainstream industry publications, research and technology has made it possible to reduce the amount of pesticide use by as much as 50% while increasing yield by the same percentage. As biodiversity and modern farming techniques (contour plowing, planting trees to prevent soil erosion, soil profiles) become more widespread, the carbon footprint of cotton crops will be reduced.
But what does that really mean? The 50% reduction in pesticide use only refers to the amount of chemicals used on the plants themselves. It does not speak to the toxicity of the chemicals or whether the farms have reduced the amount on the fields because they practice 'area-wide' pest control. If the increase in yield is thanks to growing 75% of the world's cotton from genetically modified* seeds, is that really helping anything in the long run? Happily, there is another choice: organic cotton is grown without the use of toxic or persistent pesticides and synthetic fertilizers. This means that organic production depends on its ability to replenish and maintain soil fertility as well as build biologically diverse agriculture. Federal regulation prohibits the use of genetically engineered seed for organic farming. All cotton sold as organic in the United States must meet federal regulations regarding how the cotton is grown.
Whether organic or not, cotton fiber is processed with the same basic steps: harvest, clean, spin, do something with the yarn (I'm sure you've all heard about Eli Whitney and the cotton gin, and have a basic understanding of how fiber is spun into yarn.). The difference is that organic cotton is not bleached or chemically treated during processing and, if you pick a color-grown shade, it's not even dyed. With conventional cotton, only the spinning process is devoid of chemicals. Formaldehyde, chlorine, and assorted anti-wrinkling agents are just a few of the things avoided when organic cotton is purchased. Organic cotton does have a premium price tag in most cases. Some of that is due to trend, but there is a higher cost in production that must be weighed against the long-term cost that conventional farming has on the environment when selecting a yarn.
But wait, there is another option that is both planet and pocket friendly! Recycled Cotton!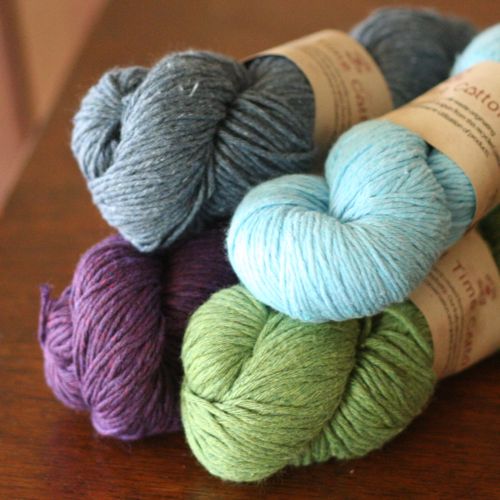 Featured Yarn: 2nd Time Cotton from K1C2
Cotton is recycled by collecting the waste, scraps and excess yarn that is left over during clothing production. The bits and pieces are shredded down to fibers, sorted by color and then spun into 'new' yarn. The recycled cotton fibers are often plied with another fiber for added strength. In my experience this secondary fiber is typically acrylic, but that is often derived from recycled sources as well. Recycling takes less time and money and avoids a large chunk of the environmentally harmful aspects of cotton by skipping over growing and dyeing. Recycled cotton is used as polishing and wiper cloths in industry and has been made into paper – the fibers are used as stuffing for cushions! But who cares about that? We're knitters. We like yarn.
For August, I've got a pattern for everyone and yarn for a few.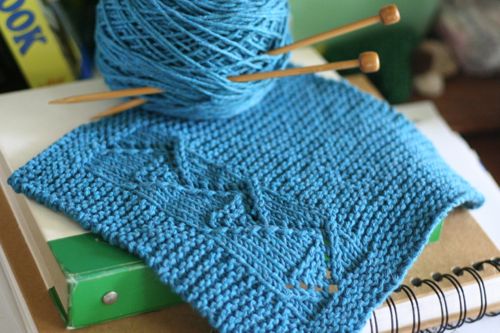 That's Hiatus, the dish rag for while you are waiting for the Return of Dish Rag Tag. It's not designed for speed. It's designed for pretty. And relaxation. A delightful change. Hiatus is available as a freebie on Ravelry and will be on my free patterns page as soon as I remember how to make that happen. As for the yarn, I've got a skein of 2nd Time Cotton (see above) from Knit 1 Crochet Too for two winners drawn at random from the comments AND for the first two people to knit through the Hiatus pattern and send me notes! Congratulations to C.C. and Jenipurr, the first two knitters through the pattern! That was so fast you made my head spin! As near as I can tell, a skein of 2nd Time Cotton is enough for three dish cloths – or a larger project of your choosing. It's actually got a real nice hand. I'm not usually a fan of acrylic content, but in this application it makes a nice addition. Also? Made in the U.S.A. You don't get that often in a yarn.
Get to commenting! Get to knitting! This giveaway will be closed on August 28, so leave a comment on this post before then for your chance to win. If you can't wait to order some cotton of your own, Green Sheep Shop is offering 20% off on all cotton and cotton-blend yarns for August. Coincidence is a crazy thing.
*Interestingly, until about 50 years ago, the majority of the world's cotton crops were still produced with sustainable, traditional farming practices. Practices that already included crop rotation, natural fertilizers and satisfaction with the plant's built in ability to withstand drought and tolerance of less than pure water.
**It's not that I have a problem with better living through science. It's that I have a problem with Monsanto. I have a problem any company that has a choke-hold on congress and wants to hold the world's food supply hostage with lawsuits.