We're at The Little Gym and I'm sitting still and I can post FROM MY PHONE so here I am!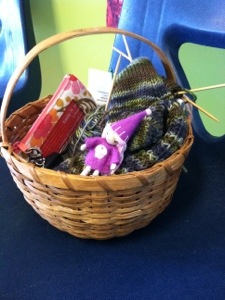 Still working on the socks. Occasionally.
I was going to tell you on Monday what all I did on my Christmas vacation. But for one reason or another, I just didn't. I've got this great yarn to round out Mindful Fiber. But I can't get organized enough to write about it. I finally finished a rabbit for a customer. But that's about all the knitting I've done this week and I really had to work to find the time.
Eh. We've all got stuff. Mine's just keeping me away from you.