By now I am sure y'all have figured out that we didn't blow away. I disapprove of the way that the newspapers around here mocked the weather. "Serene Arlene?!" I'm not sure how this will affect our Tropical Karma, but I am blaming the next storm on the Mobile Register.
I spent all last week coughing and coughing and coughing and feverish and trying to clean the house for the SUUSI Planning Meeting. I finished everything and even had the time (barely the energy) to write the agenda with no time left to knit! I did finish up the back of Remembering Honey on Sunday afternoon after everyone had left. I know I already made the back. It's not a mistake. Remember how I didn't measure the back correctly but I had started the front before I figured out that the back was wrong? Well, someone spilt coffee on the finished back (which I had to rip out anyway) so I decided to go ahead and make the front the back. This morning I ripped out the original back to the armholes and coffee spatters and began re-making that back into the front. And then, because I was feeling depressed about never finishing this sweater, I knit a swatch for Elspeth.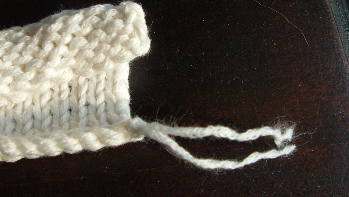 Calmer isn't like anything I've ever used before! It's made of two woven strands that give it a cushy, squishy, mushy feel. It's very soft and yummy.
I (and the cats) watched two little birds build a nest last week in the fluffy ruffle fern on my back porch! This week there are eggs! There used to be five in the nest, but now there are four in the nest and one outside the nest. I guess the little one said "roll over."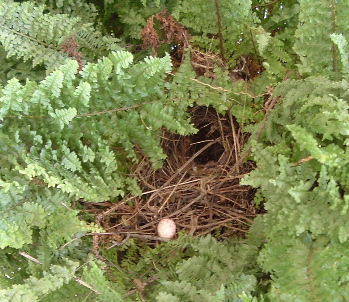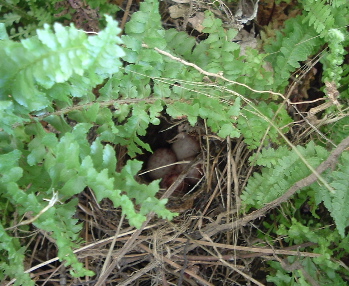 It's so sweet the way the kitties check on them every day, salivating through the window. . .