I've been lucky enough to be awarded the "You Make My Day" award from Ruth, kt and Luni as well as "Lovable Blog" and "You Rock My Crib" from Nichole. It's taken me a while to figure out how to share the love because I follow a lot of blogs. The blogroll in the sidebar doesn't represent a fraction of the talented individuals who fill my Google Reader folders.
All that to say: picking 10 blogs out of the passel that I read is really difficult. I have approached this selection in a autoblogobiographical fashion. Recipients, in the interest of freedom of expression, pick your own button: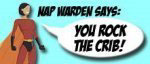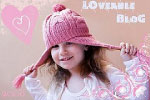 Fluffa – The first knitting blog I ever read. Many long years ago, when I first learned to knit, I went searching for patterns on the internet and discovered a virtual community. After a bit, I started to think: I can do that. In August of 2003, I did.
Christina's Attic – There is nothing like the warm fuzzy feeling you get when the very first comment shows up on your blog. I posted entries for several months before I listed myself on any of the blog rings. My very first comment was from Lauren who no longer blogs, but my second was from Christina. Christina's Attic is one month older then Yarn Miracle and she only had one child at the time – her second just turned three and the third arrived in November.
Country Girl Zine – Becky invited me to join my very first sock swap (The first Bloomin' Feet hosted by Amanda! You can find Amanda on flickr and ravelry these days.) In a Twist of Fate, she also received the first swap socks I ever made AND was the first stranger from the internet that I ever met in person.
Carole Knits – Carole made my first pair of swap socks (which are also my first and only pair of Jaywalkers). She is a prolific blogger whose posts are varied, interesting and full of great pictures. I met a lot of other wonderful people through Bloomin' Feet who have become a part of my daily blog reading. Like Teyani, who taught me to use a Turkish Drop Spindle over the phone. And Esther who might be one of the sweetest people on the internet. And Leah! I will stop there otherwise I will never finish this post.
Yarn Harlot – In four years of blogging (starting in January 2004 – I found her in April of 2004), Stephanie has managed to turn blogging about knitting into a phenomenon. Her Knitting Olympics inspired me to give colorwork knitting a try. I haven't made anything else multicolored since I finished the hat and mittens, but it's not because I don't know how. The Knitting Olympics should have prepared me for what happens when a lot of people think you've got a good idea and your swap/project gets bigger than you thought it would. Not that it's a bad thing.
Lookie What I Made – I attended my first fiber festival at KT's invitation. I actually flew to Washington to meet a stranger from the internet (Michael went too so it wasn't as scary as it sounds and KT is certainly not the kidnapping kind). She is such a crafty inspiration and a scream to spend time with (as the other kt has had reason to discover).
Is that just six? This has taken me hours. OK, my last four. These are folks whose blogs I just enjoy for one reason or another.
Yarn Collectors Anonymous – Darleen is one of the worst enablers in blogland. And I've never seen a sock yarn stash grow so fast! She inspired me to (finally) put together the Alabama Knitbloggers List and is a constant source of enthusiasm and encouragement.
Lickety Knit – While Rachel's prose is supremely entertaining and her knitting exemplary, I really read this one for the penguin.
I Was Knit Together In My Mother's Womb – Lynne is chock full of great ideas! She has also played host to the Special Swap which helped me add many many many more friends to my feed reader. I was getting ready to list them all when I realized that I need breakfast! Hunger is the best reason I know of to Wrap Up a Post Already.
For the last one, I was going to use the blog most recently added to Reader. Unfortunately, I can't figure out who that is! Instead, I will leave you with I Can Has Cheezburger. In case you haven't experienced the Joy of Lolcats.
The individuals mentioned in this post should in no way feel tagged and like they have to continue the meme – I am notorious for "ignoring" chain letters and tags so you'll get no grief from me!