I haven't been doing much knitting the past couple weeks. This is for two reasons. The first is that I have poison ivy all over my elbow. I hate it. It rubs my side when I knit and drives me Completely Bats. I will not show you a picture of the poison ivy. It's ick. The second is that there have been lots of other things that have demanded my attention. Like the yard (hence the poison ivy).
Before the poison ivy, I managed to finish this.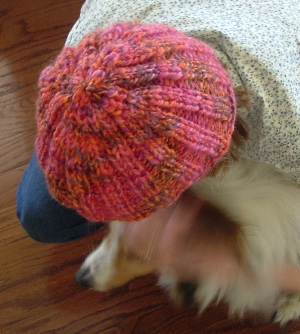 It matches my orange coat.
You probably didn't even know I started it. You see, there's a yarn shop within walking distance of where they stay in Colorado. While she was up there, Great Gran decided that she would make me a hat. She bought this great Rowan yarn (I lost the label but I think it's Biggy Print). Before I go on, let's recall for a minute that Great Gran does not like to swatch. So she bought the needles that the pattern called for. And made the hat. It did not turn out. She brought it home to me and gave it to me wrapped up with the pattern (A present you get to knit as just as good as a present that is knitted for you). I swatched and remade it. Great Gran is Aggravated because I used the same size needles that she did with different results. Let this be a Lesson to you all:
Everybody Knits Differently. Swatches Are Important.
My current "car project" is coming along as well. Since it's not as far to the end of a row, I can pause more frequently to keep the itching bearable.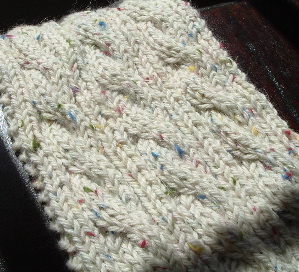 Pretty, huh? And insanely soft – it's Lana D'Oro Tweed.
I'm using this Irish Hiking Scarf Pattern from Hello Yarn. She's got lots of neat free patterns (I am intrigued by the "Besotted Scarf"). And a cute dog. What more can you ask for in a blog?
PS The new Haagan-Dazs light ice cream is wonderful. The coffee almost makes one forget that one wishes to gnaw off one's arm.