Every time I make tomato soup, I wonder if I have shared the recipe with you. So I use the little Google thing over there on the right and I search to see. I will search no more! Dust off your immersion blender, here's a little comfort food on a day when a lot of people could use a little comfort.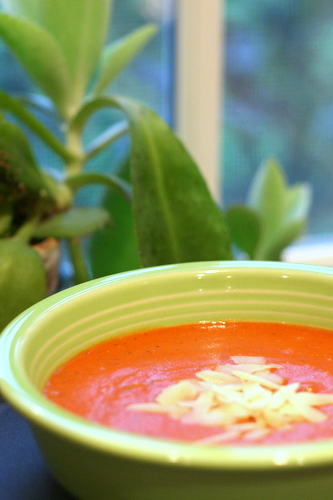 Tomato, tomahto. They both taste good.
Tomato Soup
3 T. Earth Balance (or butter – Organic Valley is the best I've ever had)
1/2 c. chopped onion (about half an onion)
Toss both of these into a pot and cook until the onion is tender. Turn the heat to low and add
3 T. of flour (all purpose)
Stir until it's smooth. Well, as smooth as it can be with all the onion in it. Slowly stir in
1 c. vegetable broth (canned or in a box, unless you are more awesome than I am)
Then add the rest of your ingredients
1 28oz can whole tomatoes
3 T. tomato paste (I use half of one of those little cans and freeze the other half for next time)
1 1/2 t. dried parsley
1 T. sugar
1 t. salt
1/2 t. dried basil
1/4 t. pepper
1 bay leaf (just pull one off the tree outside the den door…you don't have a bay tree? Dried will do.)
Give it a good stir and bring it to a boil. Then add the lid, reduce the heat and simmer for about half an hour.
Now for the fun: puree it. An immersion blender is easiest, but you can also use a regular old blender if you cool it a little bit first. And vent the top. And don't let it sit with the top on for too long.
Otherwise you have to clean up the counter.
Into the bowls! You can add croutons, a little bit of cheese or some fresh parsley and eat it all up with a side of crusty bread.