It's July. It's hot. It's time for linen.
Linen is one of the greenest fabrics in the world. Flax, the plant that linen comes from, grows well with just naturally occurring precipitation and requires minimal pesticides and chemical fertilizers even when not categorized as 'organic'. Flax has been cultivated for fiber since at least 3,000 B.C. Egyptian mummies were wrapped in it, folks in the Middle East have worn it for centuries, it's mentioned several times in the Bible and was valued as a commodity by the Greeks and Romans. All that before being introduced to Europe and then to the Americas.
Linen takes a while to process. The seeds have to be removed (rippling). The entire plant must be soaked in water, acid or chemicals to decompose the bark and pectin so the fiber can be removed as long strands (retting). Strands are dried, combed and spun into a thread or yarn. All of this makes for a product that is more expensive, but it is also a higher quality product. Linen yarn is absorbent, moisture-wicking and softens beautifully with washing, age and use.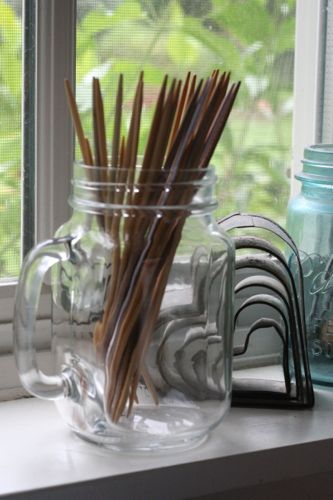 Where the spare DPNs live.
Knitting with linen is like knitting with anything else: you have to Know Your Fiber. Linen is slippery, so choose wooden or bamboo needles – they have a little grip to them that you will appreciate! If you've chosen a yarn with a loose twist, choose needles with a rounded point to prevent split stitches. Linen is not at all elastic, which means that it will not snap back into shape like wool does. It will relax, it will drape, it will soften with age. Great qualities for shawls, but your gauge should be TIGHT for other garments so that your finished product keeps it's shape. If you opt to substitute linen for another fiber: swatch swatch SWATCH. And WASH your swatch! Linen changes dramatically with washing – it blooms and softens so be sure to check your gauge after washing, not before.
**This giveaway is closed! Join us in August for more Mindful Fiber!**
Want to give it a try? The pattern this month is exactly right for a linen "taste test."
To make this little bag with its long shoulder strap, you'll need two skeins of Sparrow, an organic linen grown in Belgium, from Quince & Co..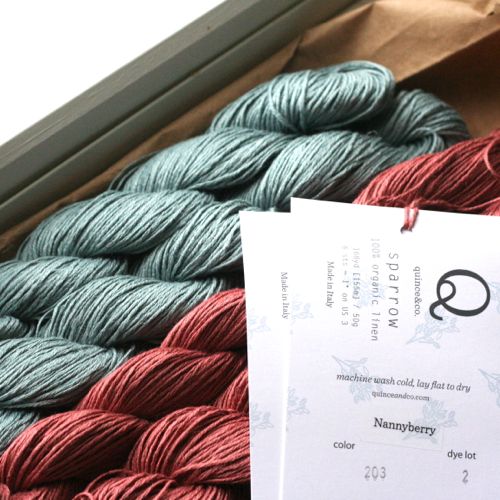 Blue Spruce and NannyBerry (picked for the name AND the color)
Quince & Co. was founded by two knitware designers and the owner of an historic spinning mill. Together, they have created "a line of thoughtfully conceived yarns spun from American wool or sourced from overseas suppliers who grow plants, raise animals, or manufacture a yarn in as earth- and labor-friendly a way as possible. We think we can have our yarn and knit it, too."
Quince & Co. sells their yarns directly from their website, and I encourage you to run over and take a look at the other yarn lines, you'll find something special. Rest assured that the something special is available in an absolutely splendid color.
**This giveaway is closed! Join us in August for more Mindful Fiber!**
I've got enough linen for two July winners, PDF patterns will be delivered by email (thank you for your versatility, Ravelry). To win this month's Mindful Fiber, just leave a comment before July 24, 2012!
Carrie Hoge holds the copyright on the le petit sac photograph. it is used with permission.