It rained All Day. And I am Not Kidding. Rain and wind blowing the rain onto the porch so we had to keep the roll-downs in the down position all day so that every thing wouldn't be soaking wet. I spent the day listening to an Agatha Christie tape (The Body in the Library) from the library and working on socks from Michael's leftovers. His Wildfoote socks, that I finished in the car yesterday, are pictured on the left with his feet inside them. Michael proclaims these socks to be the most comfortable socks he has ever worn. Since he has said that about many of the socks I've made for him, I quizzed him carefully to see if this were true. When I woke up this morning I saw that he had slept in them. Which just proved his point. You can't see it, but the socks have a graduated diamond pattern on the sides of the legs. The picture on the right is the leg and heel of my leftover socks: the off-white is leftover from Cast On's "Popcorn and Lace" socks and the green, of course, is the aforementioned Wildfoote.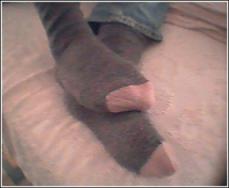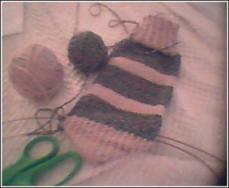 I started my sock knitting on DPNs and really love them. I only learned to use circulars when I talked Great Gran into taking a circular needles sock class with me a couple of months ago (the beginning of the Sock Frenzy). The circulars have been very practical since I like to have a sock going to take in the car or to meetings or whatever; when you drop one of your needles, it doesn't end up under the seat of the car where lots of other icky things are or clatter on the floor and make everyone look at you. The other advantage is being able to switch to a smaller size needle to do the bottoms of socks. Supposedly this strengthens the bottom and makes it wear more slowly. I will keep you posted about that last bit. I am not sure if I buy it. But it is a nice idea and certainly beats duplicate stitching the heels to reinforce them.
I don't think that I will be buying more sets of circulars just to knit socks, though. If I need sizes other than #1 or #3, I will probably just stick with my DPNs.