It is a very rainy day. There are also supposed to be high winds and maybe some thunderstorms tonight. Which makes this a perfect day for knitting!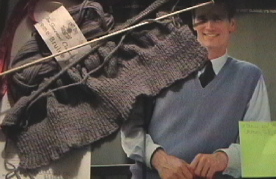 Gray day. Gray vest.
I am about five inches along and I am questioning the wisdom (and style) of a two and a half inch bottom band. I keep reminding myself that it IS a boy sweater and it WILL be 26 inches long when it is finished. The band will probably not look quite as …um… obvious upon completion. Yeah, that's the ticket.
Pretty soon it will be time for a hot chocolate break. Yes, I am aware that it is 75° outside. But it's raining! Sometimes in south Alabama you have to pretend it's fall. Otherwise, you may not get hot chocolate at all. And that, my friend, would be a tragedy.
P.S. I downloaded Bucket-O-Chic last night – everybody else is doing it!