The Christmas scarf is finished and blocked!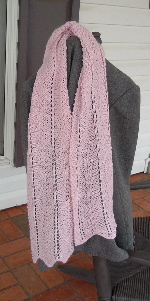 I've got enough leftover yarn to make a second scarf if anyone wants to trade/barter/offerme$10 – I won't be making another. I'll include the pattern, of course. It turned out prettily as well as very drapey and soft – a Decorative Scarf.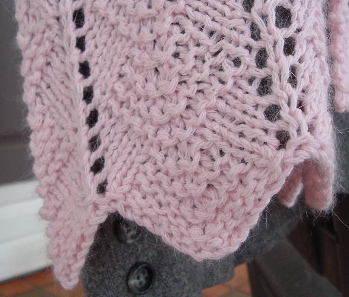 See? Pretty.
I started swatching for the Family Denim Tunic (Weekend Knitting) but I am experiencing a certain level of indecision. It seems to me that I have no business starting a project of this size with all of the Christmas Baking that is coming up next week. I ought to start something that I can put down quickly. Like the Over-the-Knee-Socks (Handknit Holidays) for Elizabeth or the hiking socks for Mark at the Library (that's going to be a challenge, his shoe size is 15E). I also need to make another doll sweater (pink) for the Davis Household (the new doll was purchased with Her Own Money) before Sunday (going to see the Nutcracker – one of them is Clara this year). So really, swatching for a sweater is not the Best Plan. Making two swatches in stockinette instead of seed stitch was also a set back (some might say a Sign).