The couch is full of yarn. And cats.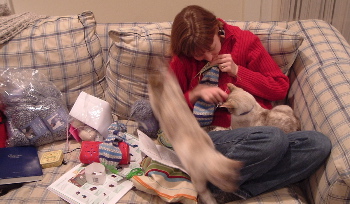 I finished those Blue Striped Socks. M wore them to the Nutcracker – the participating Davis' were very good by-the-way. I did not make a pink doll sweater, I just couldn't talk myself into it. There's always January. I had to order another set of size 2 dpns for Elizabeth's socks (I only had four and they were pretty short) so that's on hold for a bit. I've been working on a sleeve for the Denim Family Pullover, but I'm just not sure about this yarn. I am substituting Bernat's "Denim Style" for the Debbie Bliss, and it is listed as the same weight and gauge. If this is the case, why am I having to knit with it on size 4s instead of the recommended 8s to get it the right size? That just doesn't seem right. The resulting fabric is stiff and I just don't think it's going to look right. I am thinking of giving up until after Christmas and working on my Green Striped Socks (kin to the Blue Striped Socks that can be seen above).
Then there is this: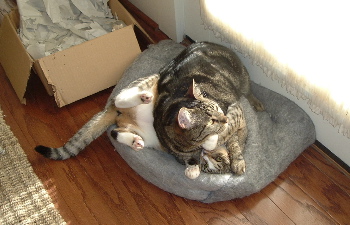 Betty, honey, Lucy can't breath!