Kathy officially wins the Special Swap Race! In spite of the dozens of priority mail stickers my little post office lady used to cover the box I sent, Illinois mail service must just be faster.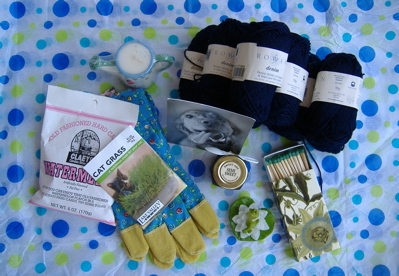 Yay! All kinds of wonderful things!
The yarn is Rowan's Denim (Nashville*) which I have wanted to try for a while! There is enough to make a vest for me – I am thinking of something with a little texture to it and buttons on the front. I am so excited! Everything in the box is fun, delicious, cute and perfect for a garden swap (I wonder if everyone sent gloves? And watermelon candy? So appropriate.), but I would like to draw your attention in particular to the tiny jar in the center of the loot.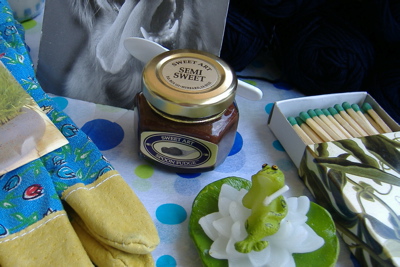 (How cute is that froggy?)
That, Dear Readers, is Spoonable Fudge. The answer to the eternal question of "How do you mail chocolate in the summer without making a mess?" It comes with an itty bitty spoon! Which is now proudly owned by one William Henry (I didn't hide it – who knew cats liked spoons?). Thank you so much for a wonderful swap Kathy! I have had a blast getting to know you. And thank you to Lynne for pairing us up!
There was so much mail today that it wouldn't fit in the box, Post Guy actually had to deliver it to the front door! Part of the first prize for Dish Rag Tag arrived (and Kathy sent one too) – more on prizes at a later date. The other big arrival was the prospective boxes for Dish Rag Tag.
***DISH RAG TAG UPDATE***
The same box (barring an unforeseen smushing disaster) will be used all the way through the swap, passing through each team member's hands once. I have located something sturdy enough, easy to open without ruining (knife to the tape on the top flaps), and a reasonable size. It also has the right price tag: free!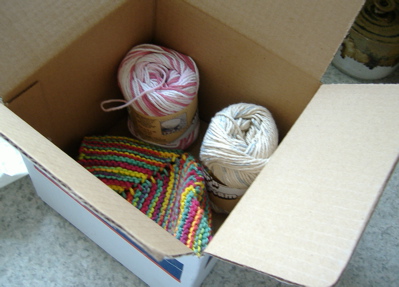 Plenty of room left for treats.
The dimensions are 7″x7″x6″ and loaded with yarn, dishrag and cheat sheet of instructions (participants might get so excited that they forget what to do when they get the box) it only weighs 10.75 ounces.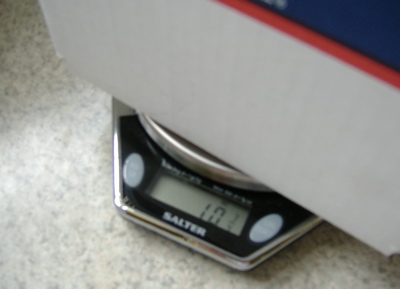 I have done Extensive Research.
This leaves 4 ounces for treats and 1.25 ounces for packing tape and mailing label. No problem.
I have notified all Team Captains – they were selected by chronological order of sign-up and state of residence.** US and Canadian teams have been officially created! On the US teams, all 10 of you are from a different state – the boxes will be crossing state lines every time they are mailed. The forums are also ready, so head over to Dish Rag Tag to meet your team mates! Navigation and instructions are pretty straightforward, but if you have any trouble or encounter any bugs, email me! Your team affiliation will show up in your profile, the forum link is also there (and up at the top). Team forums are private, but the General forum and Dish Rag Patterns (where pattern links should be posted and their merits discussed) are open to all participants.
Australian Teams, you are not officially assigned yet, I am still waiting on information from a few of you before I put together teams.
Spectators, when Team Australia is squared away, we will be opening up Spectator Registration. If you choose to register, you will be able to participate in the general forum, post dish rag pattern links, take part in the preliminary events and vote on some of the Individual Merit Awards (more on prizes at a later date).
*The blue shades are named "Tennessee," "Memphis" and "Nashville". The ecru shade is called "Ecru." Do you think "Chattanooga" was just to hard to spell?
**Basically, I picked one Team Captain and then went down the list until I found the next volunteer who was from a different state. So all 20 (really 21 with Canada) are from different states.