Look what was on my front porch yesterday!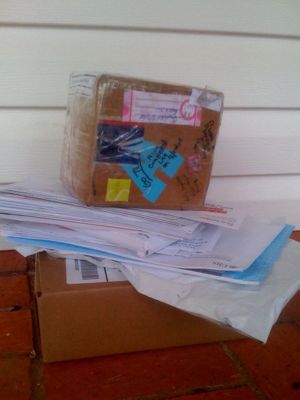 Taken with the iPhone – we were in the car when I saw it.
I could still read the team name on this one: Dishin' It Out! Congratulations to the fourth team of 2008 to finish the race.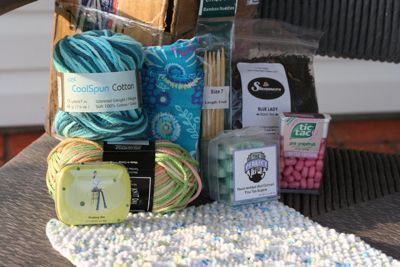 Goodies from Heidi.
Really fun goodies too – Heidi really knows how to pack a box! Apart from the dish rag for Team Captain, Alicia, there are all kinds of fun things. The dark bag is tea (Blue Lady – it smells delicious) and that tiny box is sugar!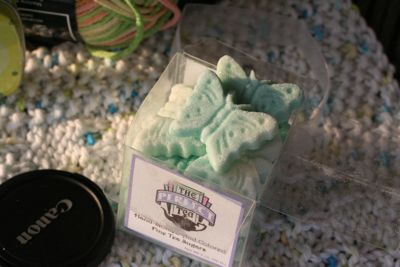 Sweet can't get any sweeter!
But the thing that tickled me the most about this team's box were the little notes of encouragement on the inside.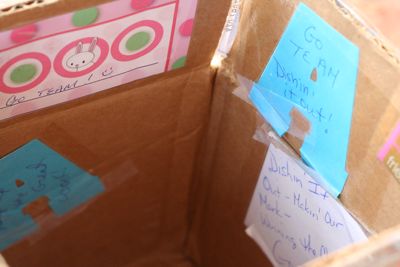 The first thing each teammate saw upon opening the box was "Go team!" This the the kind of camaraderie that Dish Rag Tag is meant to inspire. I'm still all warm and fuzzy inside from the smile that gave me.
Y'all keep knitting! I'm going to have a cup of tea.
Dish Rag Tag: the Sequel Round-Up
1… Deuces Wild 9/24/2008
2… Rag-Taggers 9/25/2008
3… Dishrag Taggers 9/25/2008
4… Dishin' It Out 9/29/2008