I've got the Official Pattern of Dish Rag Tag V worked out.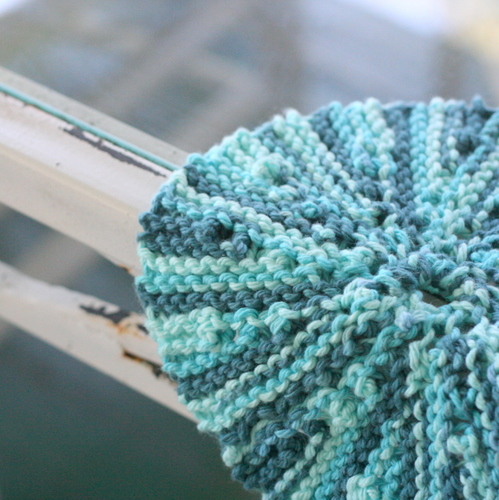 Round, uncomplicated, great for scrubbing.
When I started working on this thing, it was no fun. No fun at all. Repetitions took too long, I had to spend all this time counting and it was just all around boring boring boring without a complicated lace stitch. Even without the lacy stuff, a 23-row pattern repeat with short rows is just too intimidating for a newer knitter. I was getting ready to abandon the round thing altogether when I had a Design Epiphany.
If you haven't had a Design Epiphany, they are kind of neat. All of a sudden you say, "Oh!" and you've solved your problem.
After the Epiphany I felt much better about round. There isn't even any counting if you use a stitch marker. You can put the whole thing down at the end of a row, walk away and when you get back you can tell where you left off! If you've never used short rows, this will be an excellent place to start.
I've written up the pattern so Mom and Great Gran can give it a test run. I'll have to let you know if I enjoy it as much after the fifth or sixth starter cloth. Even if it doesn't hold up to multi-cloth binge knitting, Dish Rag Taggers only have to knit it once!