Round things look good in twos.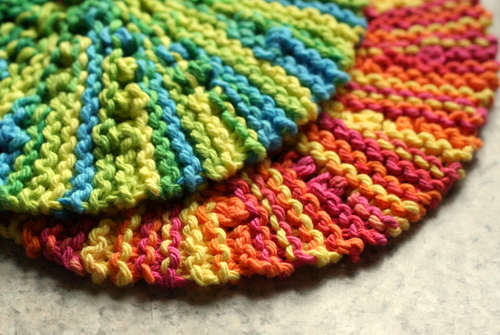 A Pair of Dish Cloths.
They taste good in twos too.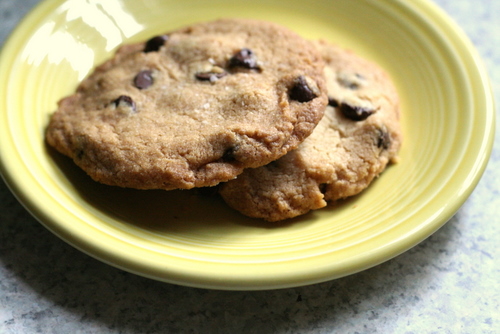 Chocolate Chip Cookies
Too good not to share.
My New Favorite Chocolate Chip Cookies
You'll want your hand mixer for this one – it's tough to get the flour incorporated with a spoon. We've made these two times in the past two weeks.
1/2 c. unsalted butter or Earth Balance
1/2 c. sugar
1 t. vanilla
3/4 c. and 3 T. all-purpose flour
1/8 t. baking powder
1/2 c. chocolate chips
Preheat the oven to 300F.
Beat up the butter and sugar. Add the vanilla and beat some more. Put in the flour and baking powder and beat patiently. At first you'll think it's going to be a crumbly mess, but stick with it. Everything will come together. Stir in the chocolate chips (with a spoon).
Divide the dough into 6-8 golf ball size balls. Arrange on a cookie sheet and gently squish with your hand (Ellie's favorite part after eating all the chocolate chips) to about 1/2″ thick. I like to sprinkle the tops with kosher salt.
Bake them for 30-40 minutes until golden brown and delicious on the edges. Let them cool on a wire rack.
These are crispy cookies made for dunking.