Ok so forget that last entry. Just forget the whole thing. Laurin commented about swatching in pattern to make sure to get the right gauge after all. Which made my stomach hurt. Because it hadn't occurred to me to measure the thing once I had started. So I got out my trusty measuring tape and my sleeve was no where near as wide as it should be. Even with streatching. In desparation I soaked it, blocked it, turned the hair dryer on it and with lots of tugging, got it to be the proper width. So I frogged the whole thing for the fourth time and started over on a larger needle size. And thank you very much, Laurin for saying something before I got any farther along! After three Ellens that TiVo had gotten for me, and some early morning knitting today, I have a respectable sleeve.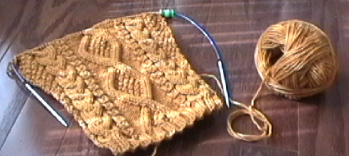 And this time something has just clicked. The sleeve looks much better, as you can see, and I am not having to concentrate nearly as hard on what I am doing. The pattern just flows. That last bit makes me want to work on it All The Time! No house cleaning for me! No unpacking! Just cables all day long! The sleeve is also the right size now (which is a plus). The crossovers still have little pinches, but I'm not going to worry about it – when I mash them with my finger they flatten out. After turning my sleeve into spaghetti, I re-balled the yarn around my travel toothbrush tube to make a pull-skein with the used yarn on the outside. This way it won't be crinkely when I get to knitting it.
I only have one question:
What are you supposed to do with your cable needle when you aren't using it?