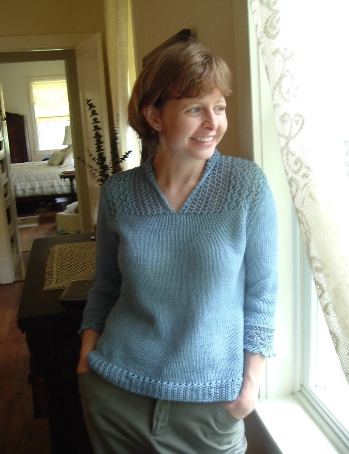 How about a little detail?
Love the pattern, hate the yarn. I tell you truly that I will never ever use Crystal Palace's Breeze again as long as I live. Not even if they were giving the stuff away. Here's why:
Discolors when you look at it crooked.*
The finished fabric is stiff and doesn't drape well.
Splity.
It is plied with a wicked twist that causes an occasional spate of awkward-looking stitches. Yes, I know that you can counteract this by knitting off of the ball backwards or some other wierdness. But at these prices, should you have to?
Any one of these qualities is a Deal Breaker for me. Taken together, this yarn has earned a spot right next to Wildflower DK on the Yarns Emily Hates List of Infamy. It's not a very long list. I tend to love yarn.
I also finished up the Yoga Mat Bag from that Target kit!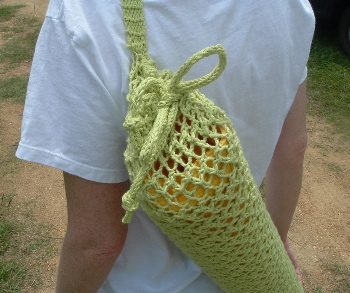 See how much I can get done when I have the time?
I've also got a full length shot. Doesn't the lime green look great with my turquoise shorts? I'll get it in the mail to you quickly, Darling Sister. I bet it's just what you wanted!
*This sweater is a remake of a green one that did some crazy fading. I had never even worn it! The swatch faded (which should have been my first clue about what would happen to the finished product). I've never had that happen before – or even anything close. I contacted the manufacturer to try and figure out what was wrong. After quite a run around, I ended up sending the sweater (with swatches and leftover yarn) to them. They sent me a new batch of yarn. I didn't blog about this the first time because I didn't want to run around screaming and defaming anybody. Not that I have that kind of Pied Piper Quality, but I take reccomendations from other bloggers seriously. I wanted to give them the benefit of the doubt. Maybe it was me. Maybe I excrete something special that only affects Breeze. Plus, I am sure there are people out there who LOVE this yarn. There are lots of colors and it does have a cushier hand than many cottons. So, I tried again. There are already a couple of spots on the new sweater that are discoloring to purple. So far, the spots are in the seams so I may get to wear Remembering Honey at least once this time around…