The votes are in, surveymonkey has analyzed the results, and we are now prepared to announce the winners of the Dish Rag Tag 2007 Individual Merit Awards! We've actually been prepared to announce the winners for a couple of days, but without the Internets for a large portion of those couple days, blogging was a little difficult.
Drum roll please:
The Award for Best DRT KIP Picture goes to Cindy and her ability to knit anywhere! Cindy will receive a skein of Trekking sock yarn (color 76) provided by Kathy!
The award for Most Complex Dish Rag Tag Dish Rag goes to Susan and her dramatic dish rag! A set of stitch markers made by Ebinla will be on their way to you soon!
The award for the most compelling Dish Rag Tag Hard Luck Story and stitch markers (of course) from Carrie go to Debbie and her Medical Emergency! Let none of us forget the Inherent Dangers of Knitting this Holiday Season. Pick up your needles At Your Own Risk.
The original idea for Fastest Turn-Around was that it could be determined by when tags were made in the Dish Rag Tag Application. Unfortunately, there were a couple problems with this – not the least of which was that you could mark the box received and then turn right around and tag the next person before making your dishrag (not that anyone did this maliciously or anything – this is just to illustrate the lack of accuracy in the time stamps). This was particularly frustrating to me because I know that some of you managed to make spectacular 2-or-3-hour-get-it-back-in-the-mail-on-the-same-day-turn-arounds that just weren't accurately reflected in the application. Since I lack a Dish Rag Tag Investigative Committee to examine all the tags, I ended up taking everyone who marked the box as received and sent in the same day (approximately 20 participants) and putting all the names in a bowl. Then William Henry picked one.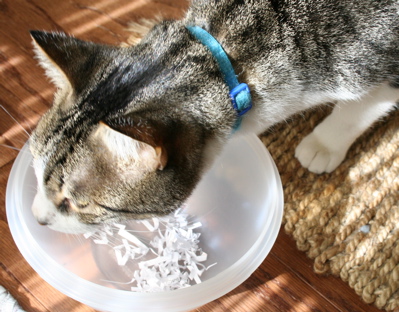 Just one, William Henry.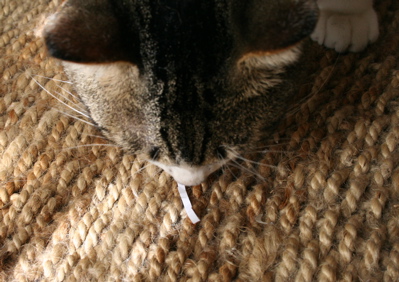 It was harder to get it away from him than I thought it would be.
The winner is Anita! I've got a set of Becky's hand-made sock blockers just on the way to you.
The winner of Emily's Surprise Award was easier to determine! This award is given to the "Chattiest" Participant in the Dish Rag Tag forums – with a whopping 69 forum posts, Nichole of Team Lucky 13 has this all sewn up! I've got a little box of goodies for you.
The 2007 award for Miss Congeniality, determined by the "nominations" of her peers, goes to Katrina who captained Team XDR with exceptional grace to a nail-bighting 2nd place finish! The perfect trophy, a Nifty Notions Keeper hand-made by Kristin, will make it's way to you.
I now pronounce Dish Rag Tag 2007 to be officially finished! Thank you to to every one who participated, my thanks to the folks who helped provide the prizes for the race and the Awards, and my heartiest congratulations the winners and to all the teams that completed the race. I also want to extend a special thanks to those of you who provided moral support during the Course of This Event – you made me feel much less alone with my insanity. Dish Rag Tag 2008 (with some modifications – this has certainly been a Learning Experience) is officially on my calendar for next summer (or it will be as soon as I get a calendar that goes past December).
The final race tally:
Dish Rag Tag Round-Up
1…..Hip-Knit-Tised…9/4/2007
2…..Team XDR…9/6/2007
3…..Rag Racin'…9/6/2007
4…..Lucky 13…9/6/2007
5…..Going the Dish-Tance…9/7/2007
6…..Rapid Rag Relayers…9/7/2007
7…..POST knITS…9/8/2007
8…..Cotton Commandoes…9/10/2007
9…..Happy Yarn Hags…9/10/2007
10…Skanks w/Hanks…9/12/2007
11…Ragtag Knitsters…9/13/2007
12…Rockin' Rag Taggers…9/15/2007
13…Sweet Sixteen…9/15/2007
14…Dish Rag Divas…9/17/2007
15…Rags to Dishes…9/17/2007
16…Disparate Knitters…9/17/2007
17..Wannabe Racin'…9/20/2007
18..Dirty Dishy Dozen…9/24/2007
19..Rag Tag Band of Knitters…10/1/2007
20..Running Ragged…10/3/2007
21..Team Canada…10/5/2007
22..Downunder Dishies…10/7/2007
Just as a reminder, the finalists in the categories that required voting had to let me know by email (with pictures or links) that they were interested in entering to win an Individual Merit Award. As I mentioned earlier, there were 231 knitters participating in The Race for Dish Rag Tag Glory 2007, making it Unrealistic for me to keep up with things by myself. Email submissions also gave Blogless participants the opportunity to submit themselves, their creations and their horror stories on equal footing.