I'm working on the Rabbit and Mystery Patterns. And a couple little things for my sadly neglected toy shop.
But what I WANT to be doing working on the Cat. Because, seriously, this is some of the nicest yarn I have ever touched.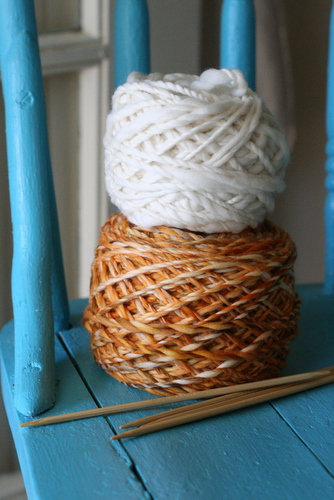 So very soft.
SpinSpanSpun, spun and dyed it just for me. Luscious.
One other thing I've been thinking about lately. Dish Rag Tag. The response to my little survey was Enthusiastic, but not Overwhelming. So I think we'll have a race with 10 teams of 10 (100 total knitters).
To those of you who have never heard of Dish Rag Tag: Welcome new readers! For the past four years I have run a dish cloth knitting relay race with the help of Priority Mail to pass the baton (box) from knitter to knitter across the United States! You can catch up the rules in this post from last year's race.
I should start working on the Official Pattern of Dish Rag Tag.
But what I WANT to be doing is working on the Cat.