I'd like you to meet Farm Genevieve.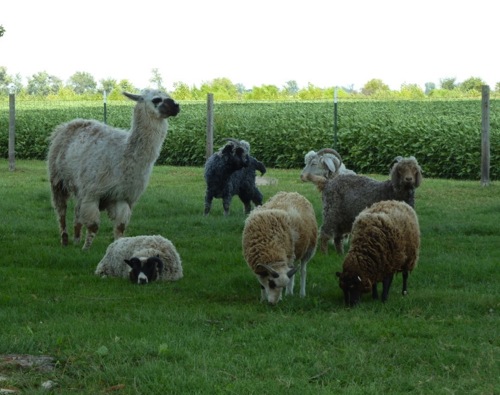 Just hanging out watching the grass grow.
Cassie Moon has a textiles degree, but "all the theory I studied never prepared me for the reality of raising a spinner's flock of Shetland sheep, Angora goats, and a guard llama. I shear and spin our wool to make lovely, local yarns with a name. I like to say that at FARM GENEVIEVE we raise handspun yarn!"
In 2011, Cassie made a commitment to be a full-time, stay-at-home farmer. With 55 animals in residence including an assortment of cats, dogs, chickens and ducks, I'm pretty sure it was already a full time job whether she stayed at home or not! Her blog chronicles farm days filled with feeding, watering, herding, hugging and cleaning up after all the residents as well as dying and spinning their fiber into yarn.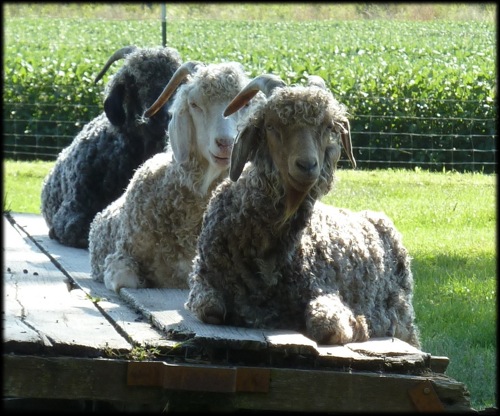 SO relaxed.
At shearing time haircuts are given with scissors! Cassie says, "I do have a pair of very expensive electric shears with special camelid and mohair combs and blades, but I almost took my finger off…I figured I could survive without a finger, but if I ever took off a tail or an ear, I could never live with myself." With fiber like this, scissors are worth the patience: many of the raw fleeces have year-long waiting lists!
There's no wait for January's yarn of the month! It's already here at the house. I got both of the available skeins – one for me and one for one of you!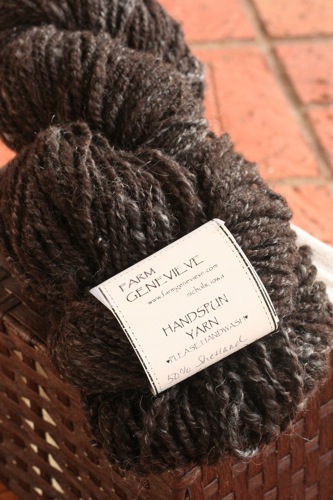 Girl Power – 50% shetland/50% mohair – 100% scrumptious
This is a wonderful bittersweet chocolate brown from a Shetland sheep named Comfrey (Sommarang Farm) combined with mohair from Farm Genevieve's gray girly goat, Catie. Catie is a rescue Angora goat who came to the farm malnourished with a broken jaw. She has recovered beautifully if her fleece is any indication. It blends wonderfully well with Comfrey's wool creating a wealth of texture and interest in this heavy worsted yarn.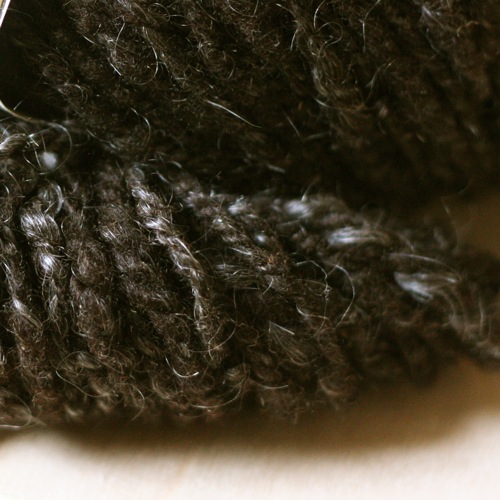 See?
***THIS GIVEAWAY IS CLOSED TO ENTRIES. STICK AROUND FOR FEBRUARY'S MINDFUL FIBER***
This is a generous 260 yard skein – plenty for a scarf or a Moss Circle Scarf Cowl. (Ravelry links)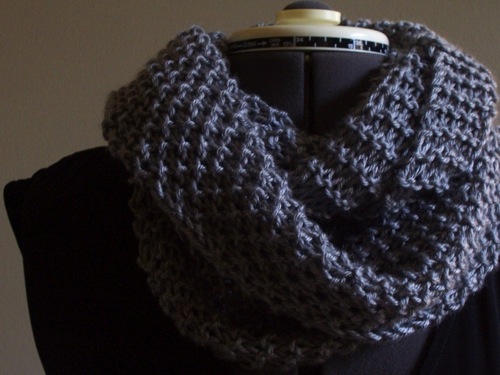 The PDF pattern by Jessica Stone is included in this giveaway. (Etsy link)
Perfect for fighting January's chill. To get your hands on this Mindful Fiber, just leave a comment on this post. The random number generator will take it from there. For more chances to win, refer your friends and have them mention your name in their comment. January's Mindful Fiber Giveaway will be open for two weeks (until Tuesday, January 24).
***THIS GIVEAWAY IS CLOSED TO ENTRIES. STICK AROUND FOR FEBRUARY'S MINDFUL FIBER***
You can find Farm Genevieve at the Iowa City Farmer's Market. If that's a bit of a drive, try the Etsy shop. There are some tempting yarns available, including some spun from corn fiber. Cassie promises more "yarn with a name" in the spring, including 100% mohair selections!
All critter pictures are the property of Cassie Moon and are used with permission. The Moss Circle Scarf Cowl is designed by Jessica Stone, image used with permission.