Happy Valentine's Day! There is no better way to celebrate than with yarn. Fluffy, fluffy, pink yarn. I'm getting ahead of myself. First, let me introduce February's Mindful Fiber.
If you could peek in my wool box, you'd know right away that Shadyside Farm Studio is a personal favorite of mine. After examining my collection, you'd know why: great weight, great spin, great fibers, great farm. Great prices too! If you thought a handspun sweater was beyond your reach, think again.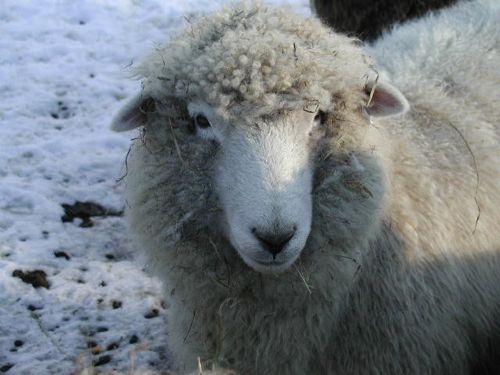 baaaaaa
At Shadyside Farm and Mill, Deb's flock of Romney and Shetland sheep graze on 100 Pennsylvanian acres. The flock's fleece is often spun with fibers from other small farms. The alpaca fiber comes from local small herds. The mohair comes from a little farm with a small flock of goats in Ohio. As for the angora: "I grow my own bunny or buy the fiber from my friend that has a large herd on her farm, she lives near me…her bunnies are very well kept and comfortable..as are mine."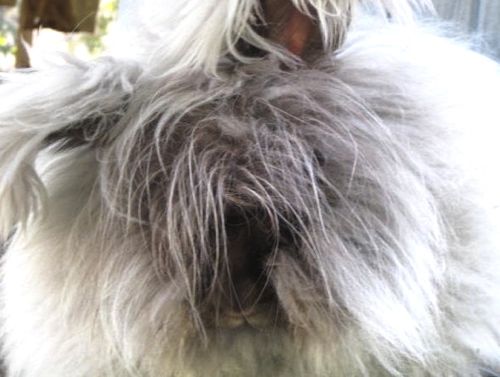 There *is* a bunny under there.
The natural fiber processing methods (no scouring) result in a low pilling, long wearing, lustrous and soft yarn. In the studio, Deb blends fresh fibers into handspun yarns of exceptional quality. The natural shades paired with the subtle thick and thin of the spin gives a friendly, comfortable character to the resulting yarn. When used, the low impact dyeing methods present a delightful, earthy pallet of 'nearly solid' or heathered tones.
I love this yarn. Can you tell? I want to give you a chance to love it too, so this month's giveaway is for two skeins of Homespun Bunny in a soft pink.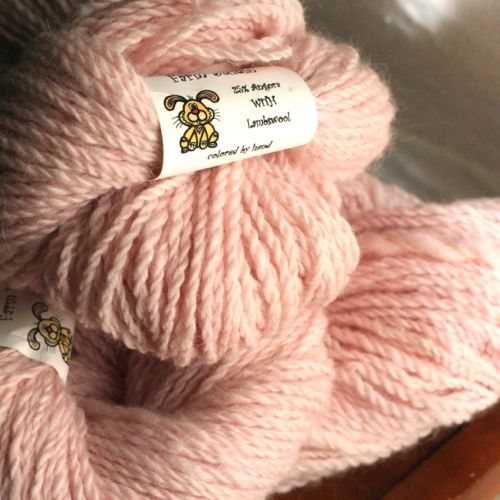 The labels just tickle me.
This is a 25/75 blend of German angora and lambswool, both from Shadyside Farm. It has a nice long staple and won't shed all over the place. I know it for a fact: I've used this yarn for toys! Each skein is 4 ounces (245 yards) of fluff. Plenty to make Just Enough Ruffles by Linda Chau. (Ravelry links – The scarf looks just like a Valentine.)
Or if you have a little sweetheart in your life, it's enough to make all but the largest size of Like Sleeves for kids from Yumiko Sakurai.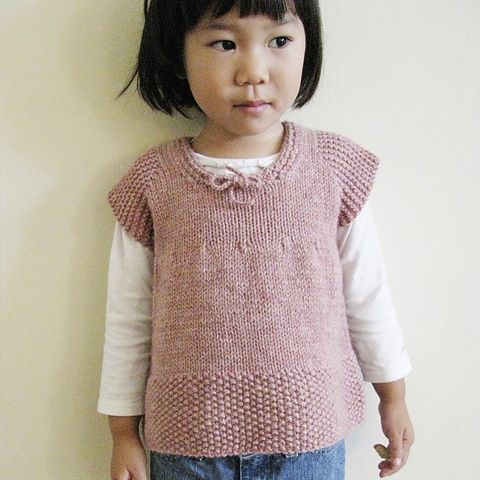 Yumiko has kindly offered to gift her pattern to the winner!
That's what I'm making – I bought the rest of the pink bunny for Ellie. If there's ever a "Like Sleeves for grownups". I'll make it for me and wear it to shreds.
To win this Mindful Fiber and your pick of pattern (ruffles or sleeves), just leave a comment on this post. The random number generator will take it from there. For more chances to win, refer your friends and have them mention your name in their comment (this is to raise awareness after all). February's Mindful Fiber Giveaway will be open for two weeks (until Tuesday, February 24).
**THIS GIVEAWAY IS CLOSED. CHECK BACK FOR MARCH'S MINDFUL FIBER!**
You can find Shadyside Farm Studio on Etsy and at local fiber festivals, most recently the Pittsburgh Knit and Crochet Festival. As a special treat, Deb made a coupon code just for Valentine's Day. Use the coupon code "VALENTINE" to apply a discount to your Shadyside Farm Studio purchase!
I already have all the pink Homespun Bunny (neener neener neener), but there are other splendid yarns to choose from. Like the alpaca dream in old rose or the shetland in lichen. Unless I get to it first.
Sheep and rabbit pictures are copyright Shadyside Farm Studio and used with permission. Like Sleeves is designed by Yumiko Sakurai and the image used with permission. Either pattern will be delivered as a pdf.