I ordered a globe for Ellie. We made sneaky boxes for the cats with the packaging.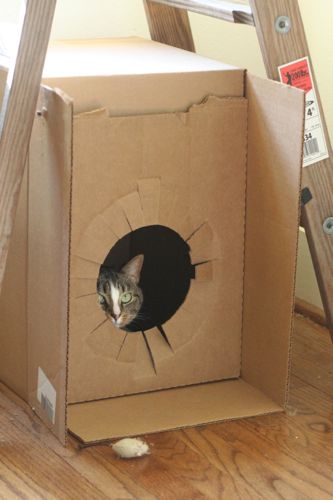 Big hit.
Speaking of boxes, I've put together three destash boxes.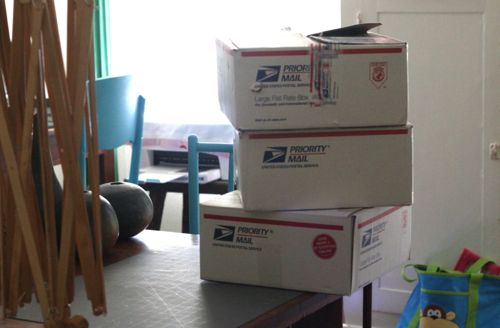 Just like that, my table is cluttered again.
At first I thought I'd send them off for the price of shipping to whoever wanted them, but this morning I found out that my town's no-kill shelter is full to the brim. I'm going to use the de-stash as a little bit of a fundraiser. Each box has around $100 worth of yarn in it. So. I'm selling each box for $30: $15 for shipping (large flat rate boxes) and $15 for the North Baldwin Animal Shelter. I'll match each of the $15 Shelter Donations. When all the boxes are sold, that'll be $90 for the critters.
I'm not going to tell you specifically what is in each box, where's the fun in that? Not everything has its label and a few skeins are wound into balls. Everything has been stored in my smoke-free but cat friendly home (the yarn was not stored with or near any cats).
---
Sock Box: has enough yarn for at least 13 pairs of socks. All the yarn is wool or wool blend. There is self-striping, nearly solid, some well-known brands, some fancy brands, most (if not all) is superwash. SOLD
---
Wool and Company Box: there is all kinds of fun stuff including some Noro, baby alpaca, handspun and a skein or two of hand dyed worsted. It's a fun mix if you'd like to try something new. There is no sock yarn in this box. SOLD
---
Creature-Free Box: There are some unusual fibers, well-known brands, sock yarn and enough Euroflax Linen to make the hand towels in Mason-Dixon Knitting. SOLD
---
Well, that was fast! Thank you all SO MUCH, I'll get the boxes on their way tomorrow.
I very much sincerely hope that I made those buttons correctly. If I didn't, I know all about how to issue a refund. **Edited to Add: I did NOT make those buttons correctly, but I was lucky enough to realize it before I had to make more than one refund. I'll figure that out better before I try it again.**