**THIS GIVEAWAY IS CLOSED. CHECK BACK FOR APRIL'S MINDFUL FIBER!**
The angora goats, sheep and angora rabbits of Bloomingdale Farm in Ohio (with the help of Jeanette and her family) produce a variety of natural yarns, rovings, batts, and fibers.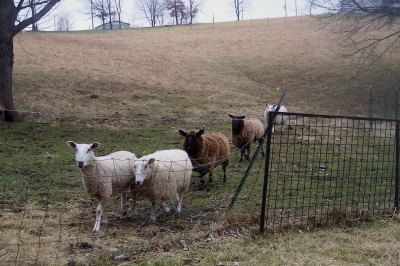 If they aren't stirring dye pots, turning carders, warping looms or spinning at wheels, you'll find the family in the barns with the animals. Jeanette says "In our spare time, we take care of horses, kids and stray cats. We believe in a natural style of living, and have great respect for God's creation."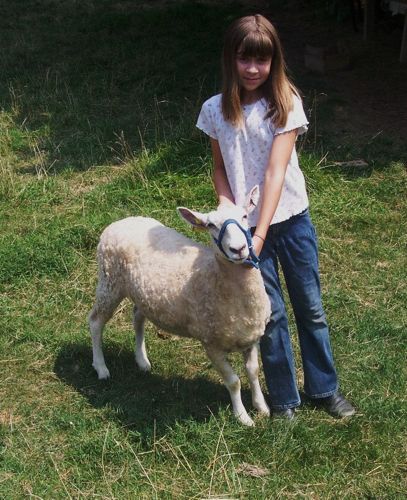 She also reassures people about the kindness and care given to her
animals. "People sometimes ask us if we have to hurt our animals to remove
their fur. The answer is NO! Angora rabbits and goats need to have their hair removed regularly, just as sheep do. Leaving the coat of fur or wool on a fiber animal is detrimental to its health. In addition to the fact that an overgrown coat becomes dirty and matted, it can also hide underlying skin problems. Angora rabbits groom themselves daily and in doing so ingest a large quantity of hair. If the hair is not periodically removed, the animals will develop hairballs in their intestines—a condition that can be fatal." For these reasons, fiber animals are shorn either with scissors or with electric shears.
The fiber harvested from the animals at Bloomingdale Farm is processed into yarn, batts, doll hair and roving. All of the handspun yarn is produced at the farm studio with fiber from their own animals. Occasionally, a bundle will be sent to the mill to be professionally spun or processed into roving, though Jeanette explains "sometimes I have to buy wools and fibers
from others, mostly here in Ohio, to make up enough to do a mill run."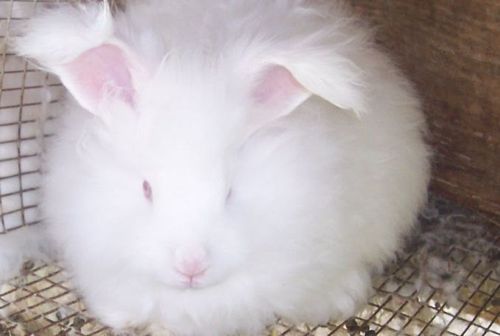 Janette's Etsy shop is known simply as angorayarn. Most of the fiber Boomingdale's herd of German and French angora rabbits produce is sold in bulk to some of the best natural fiber vendors in the U.S. But she saves enough to offer exquisitely soft, fuzzy, fluffy and delightful skeins to her direct customers.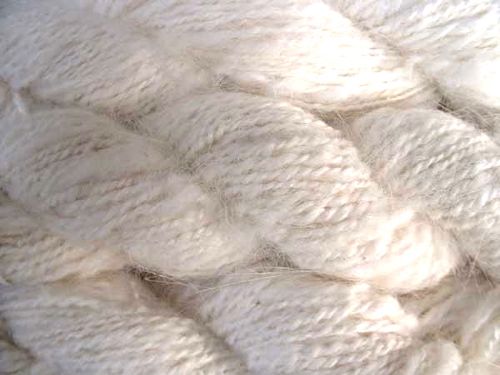 Hand Dyed, hand painted and natural shades (including grey from Commodore, Edward and Stu) are available. Spinners can asks about locks or rovings. Don't let the softness fool you into thinking that this is a delicate flower of a fiber: angora yarn is seven times warmer than wool, strong as anything, and only gets better with age (halo halo halo).
This simply splendid angora yarn is our featured yarn for March! I've put together some Itty Bitty Bunny kits to give folks a chance to try something new and make something fun all at the same time.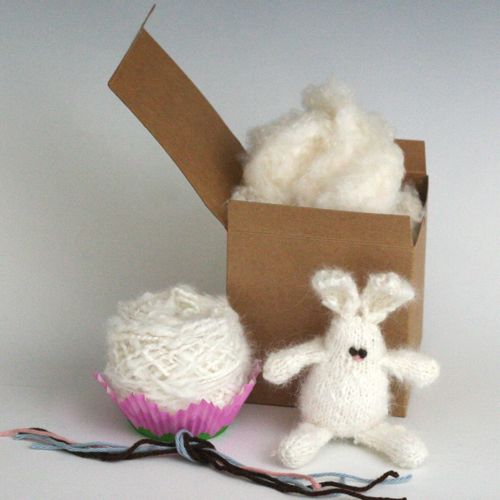 Handspun angora yarn, organic cotton stuffing, blue and brown eyes, pink nose and a printed pattern.
**THIS GIVEAWAY IS CLOSED. CHECK BACK FOR APRIL'S MINDFUL FIBER!**
I've got a kit each for TWO lucky winners this month! To win these Mindful Fiber treats, just leave a comment on this post. The random number generator knows what to do. For more chances to win, refer your friends and have them mention your name in their comment (this is to raise awareness after all). March's Mindful Fiber Giveaway will be open for two weeks (until Tuesday, March 20). We're early this month so the winners have plenty of time to knit angora bunnies for Easter!
You can find more luxury yarns from Bloomingdale Farm on Etsy, Ebay or on the blog, Bloomingdale Farm Natural Fiber and Yarn.
Everything but the kit picture is copyright of Jeanette Roberts. Images are used with permission.