I have a craft room. My very own space. It holds my beads, pipe cleaners, felt, stuffing, most of my books, paper, stamps, paints, adhesives and lots and lots of yarn. Until last week it looked like this: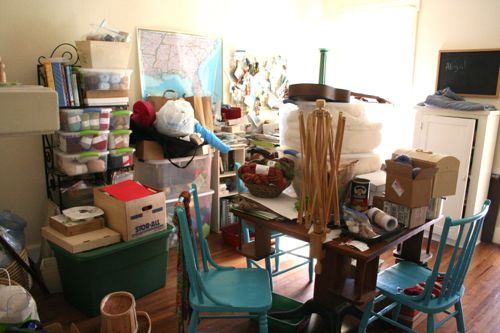 You'd think that with two closets, two bookcases and a cabinet…
It was so full and so messy that I was forced to take my laptop and move out. Here's a detail of the table just to illustrate the horror of the situation: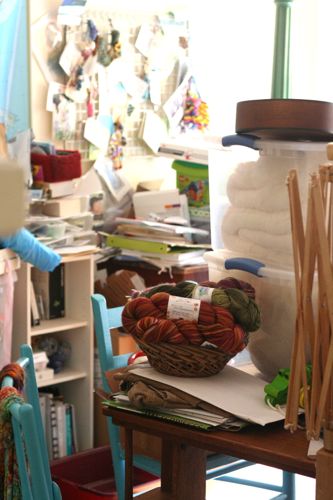 That's the desk in back. I've relocated to the kitchen writing desk.
I never meant for it to be like this. For nine years I've wanted a set of cubbies. For a year and a half I have been actively trying to buy them. They were always OUT OF STOCK! Three months ago, my Dad made two trips to the store to get a set of cubbies that were actually in stock. They were on a high shelf that no one was allowed to access with customers in the store. (???!!!) For two months my cubbies have been in my folks' garage. Dad came for a visit last week and my cubbies (assembly required) came with him. We put them together while Ellie was at preschool and now my craft room looks like this: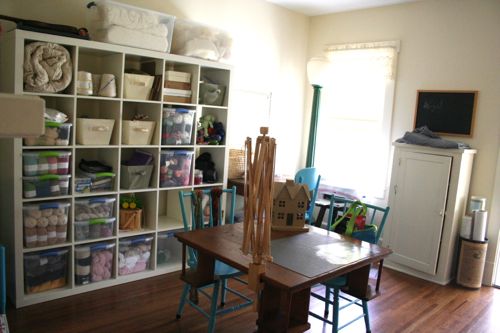 The empty cubby is for cat naps.
Let's see it from another angle because it is truly amazing.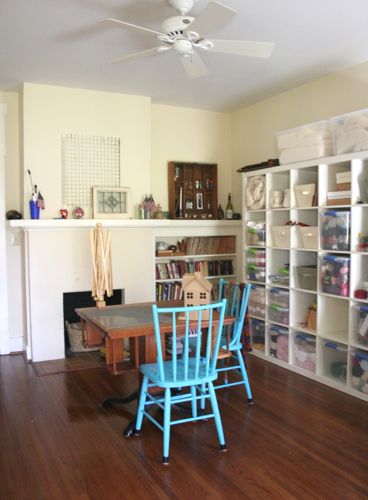 To the left, there is a freestanding bookcase filled with my art books.
I've also done a little bit of a destash as part of the renovations. I've got a fair amount of yarn that needs some help meeting it's knitted destiny: hats, scarves, one-skein projects, I have an embarrassment of sock yarn, patterns in the Oddball Knitting book. I thought I'd make up a couple surprise boxes and share them for the price of shipping. If you're interested in Mystery Box Stash Enhancement, keep an eye out over the next few days.
My Random Number Generator is napping now. I'll have some Mindful Fiber results for you within 24 hours.
As a total aside, I absolutely and completely love my home! There are seven fireplaces (none work because of honey bee and wasp defensive strategy, but it's also 80°F for 80% of the year so whatever). The house belonged to my great grandparents and Great Gran (my regular grandmother. if you're new here: think of the 'great' as a superlative) is my landlady. I'm not sure things can get better.