Ever since the Winter Precipitation Event, it's been 70°. This is not exactly wool sweater knitting weather. The daffodils and crocus are coming up for crying out loud! I haven't even started Michael's brown sweater. The weather promises colder for next week so I may feel more motivated.
In the mean time, I got my dollhouse from my mom and dad's over Christmas and then had some friends (7, 9, and 11) over to play. They really enjoyed my dollhouse and all the little junk I made for it back when I was 7, 9, and 11. I got to thinking: "You know, I've got so many more skills than when I was a kid, I wonder what all I could make for my dollhouse now."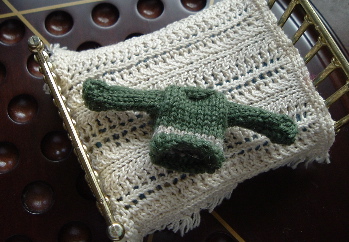 Turns out I can make a lot.
Here's the spread by itself, the little fringe was less of a pain than I thought it was going to be. That is actually my Snug afghan with only three repetitions in crochet thread on #1s. And then if that wasn't tedious enough, I thought my dollhouse people looked a little chilly…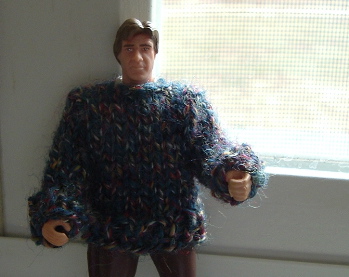 Doesn't Han Solo make a splendid model?
That's right, my dollhouse is populated with Star Wars Action Figures. The Ewoks are the children. Here is the tiny sweater pattern in case any of your action figures are feeling the winter chill.
Tiny Sweater (3/4″ dollhouse scale)
materials: #0 needles, sock yarn leftovers, yarn needle (for seaming)
body:
Cast On 12 sts
Rib 2 rows in K1,P1
Work in stockinette for 14 rows. You should be ready to work a wrong side row.
P4, Bind Off 4, P4
K4, Cast On (reverse loop) 4, K4
Work in stockinette for 14 rows.
Rib 2 rows in K1, P1
Bind off all stitches.
sleeves (make two):
With right side facing, begin about a quarter of the way from the edge of the body and pick up and knit 9 stitches.
Work in stockinette for 14 rows.
Rib two rows in K1,P1
Bind Off
finishing:
Seam sides and sleeves. Trim ends (or weave them in if you feel like torturing yourself).