Ellie says "I love Dish Rag Tag! We never know what is in the mailbox!" So true! A couple days ago we found…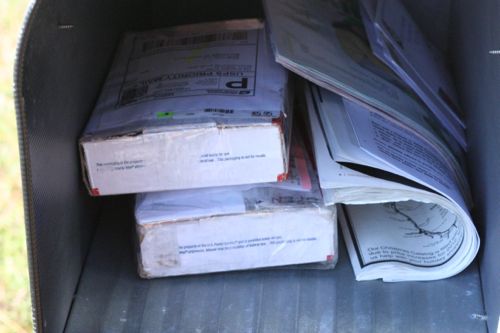 ..boxes 9 and 10!
Box Number 9 belongs to All Four One!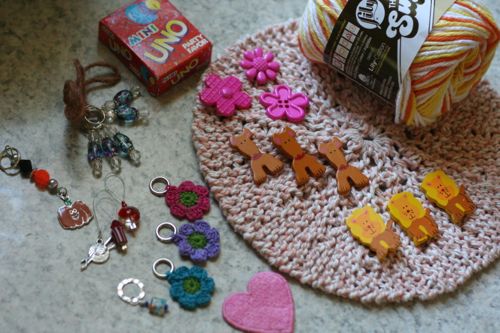 It's packed full of little things!
Ellie is already planning what to put the buttons on, insists that the stitch markers with the crochet flowers belong on a necklace and is REALLY excited about playing tiny Uno! I am excited about the beautiful dish cloth from Sara and the really pretty sunshine yarn. Such great colors! Thanks for bringing sunshine into my day All Four One. Congratulations to all of you and to your Team Captain Natalie! (Natalie: love the Tiered Coat – and the toddler in it!)
A small amount of sleuthing was required to deduce the Team Affiliation of Box 10. Is it coincidence or some sort of eerie foreshadowing that the tenth box to finish the race belongs to team Perfect 10? Meredith knits a great dish cloth!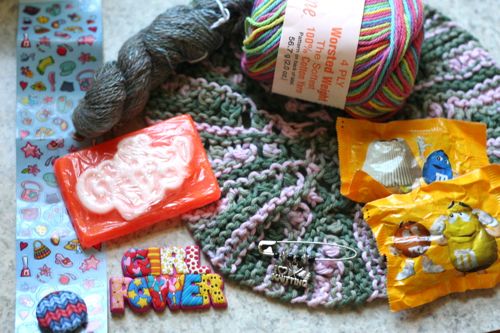 And packs a great box!
Ellie and I (and the five girl cats) appreciate "Girl Power" philosophy! We also appreciate M&Ms, but for different reasons. I tell you what I really like though, that little fluff of a yarn! It's got a subtle variegation of blue and grey – like the Gulf before a storm. Really lovely – it is always a treat to try new fiber.* Many thanks to Perfect 10 and Team Captain Jessica! (Ah! Tulip Cardigan! What is with all the great baby sweater pictures this morning? It's like I need to finish my own kid's sweater or something! I haven't told you about that? Just one Dish Rag Tag box to go and then I'll share!)
Dish Rag Tag V Final Standings
A-NINE-ILATORS……10/7/2011
3x the Charm……10/8/2011
Purls Gone Wild……10/8/2011
Eight's Great……10/11/2011
11th Round Knockout……10/11/2011
Knit 1, Win 1……10/13/2011
Round Tuit……10/14/2011
Lucky 7s……10/15/2011
All Four One……10/17/2011
Perfect 10……10/17/2011
*Which, incidentally, gives me an idea for a swap. But I have a lot of ideas for swaps and no time to host them. It would be a drop of something you enjoyed from your stash and pattern for a small object that can be made from it. (bookmark, wee tiny sock, ornament, etc). And perhaps an uncommon/local/weird candy, recipe or something edible like that to try. If anyone does a "Try it, You'll Like It!" yarn swap, just go ahead and sign me up.