Y'all.
I made these up for dinner last night. Ellie ate FOUR so I felt like I needed to share right away.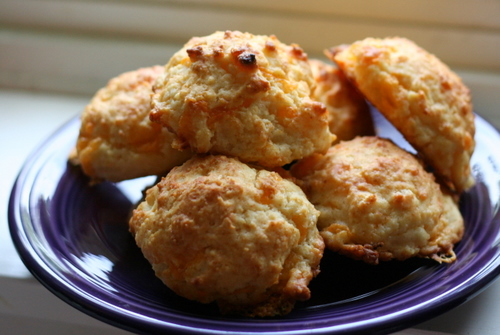 Leftovers for breakfast.
Cheddar Biscuits
Makes about a dozen.
Preheat your oven to 425.
1 c. all-purpose flour
1 heaping t. baking powder
1/4 t. garlic salt (don't be a hater, garlic salt has a purpose)
1 T. sugar (trust me)
Put the above in a bowl and mix well. Cut in
1/4 c. butter (or whatever – I used organic butter because I had it)
Add
1/2 c. shredded cheddar (I used Cabot Extra Sharp)
and toss well. Stir in
1/2 c. + 2 T. milk (I used organic 2%)
Your dough will be wet – don't panic it's a drop biscuit. Scoop it out in rounded tablespoons onto a parchment lined baking pan (or a cookie sheet you trust although there is enough butter in these that you should be OK) and pop them in the oven for about 15 minutes. Watch for golden brown and delicious to emerge.
Eat up!
Note: I think a little melted butter brushed on top would only improve them, but they certainly don't need anything else to be yummers.