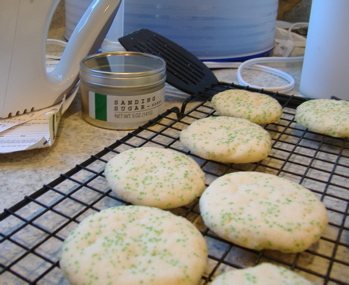 The greatest sugar cookies in the history of the world (in my opinion).
Sugar cookies, you never let me down. You're not like other recipes in other cookbooks who claim to be fantastic. Whose ingredients look enticing and delightful. Recipes that promise untold delights only to fail miserably. Recipes that are really unattractive, tragically flawed or just not good. Sugar Cookies, you truly are…
The World's Best Drop Sugar Cookies (Trust Me)

Ingredients:
1 stick butter (softened)
1/2c. vegetable oil
3/4c. confectioner's sugar
1/2c. granulated sugar (plus some extra for later)
1 egg
1/2tsp. vanilla
2 1/4c. flour
1/2tsp. baking soda
1/2tsp. cream of tartar
1tsp. kosher salt

1. Cream together the butter, oil and both sugars.
2. Add eggs and vanilla and beat until almost white (about 5 minutes).
3. Add dry ingredients and blend together.
4. Roll 1 inch balls (a tablespoon-size ice cream scoop works great for this since the dough is soft) in granulated sugar and place on an ungreased baking sheet (I use parchment paper on the baking sheet).
5. Flatten each ball of dough with the bottom of a glass.
6. Bake at 375 oven for 10 minutes. With the small ice cream scoop I get almost 5 dozen.
My Holiday Baking Menu now consists of: Lime Shortbread, Oatmeal Cranberry Cookies and Blueberry Muffins with a Twist. The sugar cookies were for the library and the vet. I made it to the armholes on the front of the Orange Vest and determined that it would take a Yarn Miracle for me to finish and get it blocked in time (we are leaving for Atlanta tomorrow morning). I abandoned the vest in favor of taking pictures of the cats sleeping. For those of you keeping score: Christmas-5, Emily-1 (I get a point for the Lime Shortbread, it turned out very well).
Don't forget about the Sweepstakes! I could use some freaking cheer.