October is my second best month for toy sales (early Christmas shoppers). Weirdly, August (and the last half of July this year) is the absolute best. Which does mean that September is a bit of a scramble to restock.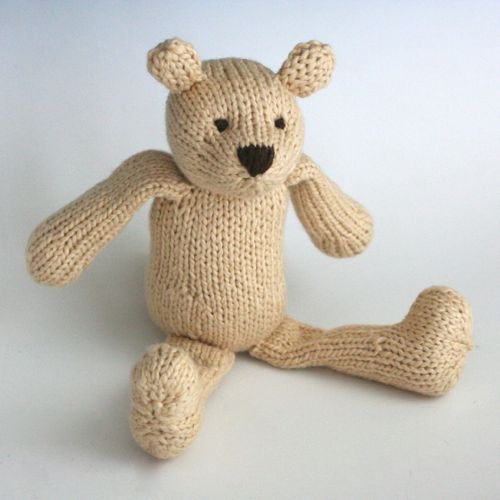 The latest finished piece.
That's Cashew Bear. He's made with Lion Brand Nature's Choice organic cotton. I'm actually a big fan of this yarn. It's readily available, reasonably priced for an organically grown cotton AND plant-dyed. You do have to watch the dye lots since shades can vary radically between batches but I don't care because plant-dyed is cool. Nature's Choice listed as a worsted yarn, but I treat it like bulky with no trouble. The soft spun core plied with a skinny thread gives a fun wooly texture to the fabric but it can be a problem for seaming. The friction caused by drawing the strand through the knit stitches may cause the strand to fray and break. Which may cause you to tear out your hair. Not a huge big deal with toys – I just swear a little, pick it out and start over. If I were making a sweater I would consider using a different yarn for the seams.
While we're on the subject of cashews (we're not really but stay with me), Ellie's school is peanut free. Which means that for my vegetarian child, a dependable source of lunch time protein has become completely unavailable. Since I can't give her cheese every day, she's not real big on leftovers and veggie deli slices aren't the easiest things to get, enter the nut butters: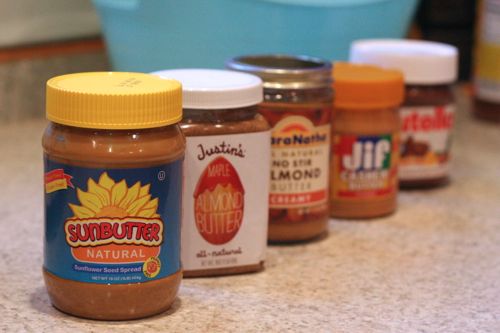 Presented in order of highest protein content per serving to lowest.
While peanut butter (as a legume) still has the best concentration of protein at 8g per 2T, sunflower seed butter is right up there with 7g. Almond butter has 6g, cashew 4g, and Nutella (while the most chocolaty of the contenders) has only 2g of protein. There are other brands of hazelnut spreads that I have not investigated, so it may be that the protein content is higher in those. The fat content ranges from 18g (cashew) to 12g (Nutella weirdly). Those are just the nut butters I have found available locally! Know of any others to add to my collection?
ETA: Ellie has just revealed that she does not care for SunButter. I'm going to have to figure out something else to do with it.